Manly Spirits Co. has teamed up with fellow peninsula producer Seven Miles to create an artisan coffee liqueur that literally captures the essence of the northern beaches.
As the espresso martini continues to be one of Australia's most popular cocktails, Blackfin cold brew coffee liqueur embodies "pleasures of life to the max" while showcasing "profound respect" for coffee.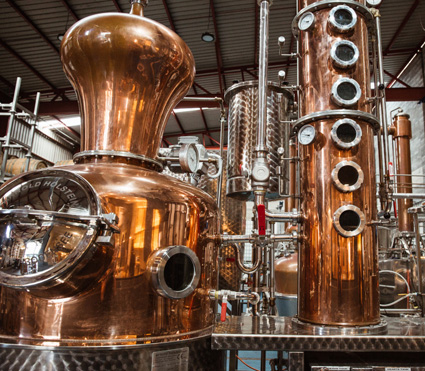 Manly Spirits Co. (MSC) was founded by Vanessa Wilton and chemical engineer David Whittaker, operating a boutique distillery in Brookvale.
They and head distiller Tim Stones enlisted Dr Adam Carr of Seven Miles at Manly Vale. Green arabica beans are roasted to specification before being delivered to the distillery, where they are ground and cold-brewed for 18 hours.
The brew is then combined with MSC's signature clean wheat vodka, and distilled Cinnamon Myrtle is added for delicate spice notes.
Finally, ocean water from Manly Beach is distilled down to create a concentrate of sea minerals for the finishing touch.
The result is creamy in texture with a penetrating, sweet mocha burst, the cold-brew providing for a balance of sweet, malt and spice, with a hint of ocean salt.   
"It's a painstaking process over some days, but the result is a rich flavour profile with soft, floral notes without being overpowered by harsh and bitter components of traditional espresso used in many coffee liqueurs," says Whittaker.  
"It's exceptional coffee joining outstanding wheat vodka married with an Australian botanical and sea minerals from Sydney's Northern Beaches."
The Liqueur is hand-bottled, with a striking label by local artist Tracy Dickason, depicting the free spirit and surfing cult of the Beaches.
BLACKFIN / X MARTINI
30ml Manly Spirits Blackfin Coffee Liqueur
20ml Manly Spirits Marine Botanical Vodka
20ml Manly Spirits Terra Firma Botanical Vodka
30ml Fresh Espresso


Method: Combine all liquid ingredients in a shaker. Add ice and shake hard. Strain into glass. Garnish sprinkle cross of roasted wattle seed