Solotel's Golden Sheaf consolidated its reputation as one of Sydney's best live band venues yesterday, serenading the city-to-surfers with an impromptu gig by hard-rockers You Am I.
Surprising the more than 80,000 runners taking part in this year's instalment of the classic endurance event, serious athletes and fun-seeking alike trekking the 10-odd kilometres from the city to Bondi Beach, the classic pub band played on the Sheaf's balcony, blasting all who passed by.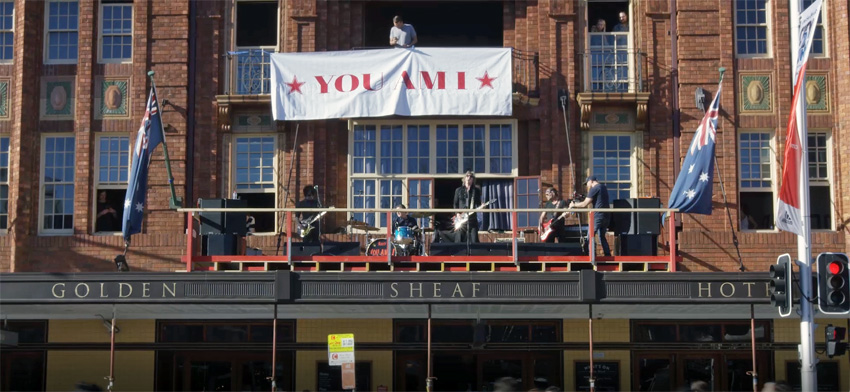 The classic Aussie pub band played for more than an hour, covering all their classics, and plenty of weary joggers stopped for some snapshots and a little music appreciation.
But it's still unclear if the band's full-volume performance was enough.
"We have tried, through dishwashing and carpet cleaning to pay off a bar tab, however it has been a Sisyphean ordeal," admitted You Am I's Tim Rogers.
"Hence, our little group will attempt to square the ledger by performing cult hits from the first floor awning."
Already hosting live music six nights a week, the Sheaf marketing director Dan Lacaze hinted the debt may now be paid.
"The Sheaf's been supporting local Aussie artists for decades, and this is definitely the biggest indie act we've hosted to date.
"We wanted the guys from You Am I to rock hard, and they did, to give everyone a little extra motivation on their run."
And team-player Tim 'Lawrence of Arabia' Rogers is hopeful the debt is ready to begin again.