Another course of Taste is set to be served up in Centennial Park in March, with pubs well represented in the all-star 12-hatted opening line up announced this week.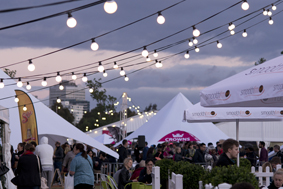 Joe Saleh and Colin Fassnidge's legendary 2-hatted Four In Hand hotel and 4Fourteen restaurant are back again, with the celebrity chef's trademark nose-to-tail cooking set to be on offer for eager foodies.
Speaking to PubTIC, Saleh says the festival is a fantastic way for food venues to showcase in a central location to leverage exposure to the foodie market.
"Taste gives people a greater knowledge of the restaurant market, and the types of food available.
"For us the restaurants, it's about getting together collectively, giving access and creating awareness; it's not about one individual. The festival is good for the industry as a whole."
Also confirmed is the uber-trendy Argentinian-style Porteño Restaurant & Gardel's Bar, with rockabilly co-chefs Ben and Elvis again bringing their mouth-watering open fire 'asada' meat dishes to the park.
The guys have recently been working out of their 'POPteño' temporary digs at Darlinghurst following the fire at their immensely popular Cleveland St location late last year, which they say will be back soon better than ever.
Taking place Thursday 12 to Sunday 15 March, tickets are on sale HERE.
Representing a festival pioneer in the global foodie movement, Taste was first held in the UK 10 years ago, and now delights food and wine connoisseurs in 24 countries around the world.
Taste Sydney was recently awarded NSW's Best Exhibition at the Australian Event Awards.