PHMG's annual Ladies Luncheon took place last week, raising another big cheque for the Royal Hospital for Women and ground-breaking pre-natal care.
Last Friday 130 invited attendees gathered at Bistro Moncur in Public House Management Group's (PHMG) Woollahra Hotel for the yearly event, hosted by news reporter Ryan Phelan and PHMG's Harriet Waugh.
Guests included Kate Waterhouse, Francesca Packer, Roxy Jacenko and former Harper's BAZAAR editor Kellie Hush.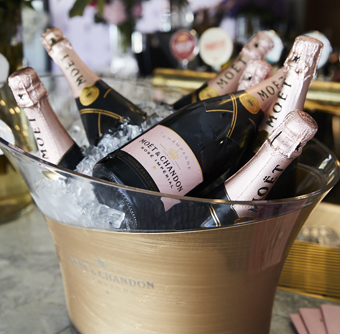 All were treated to a bespoke three-course menu created by Bistro Moncur culinary ambassador and founder, Damien Pignolet, featuring new dishes Veal Fillet, Crisp Skin Bass Grouper Fillet, and Chocolate Domingo Cake for dessert, with drinks by event supporters, Moët & Chandon Rosé.
Entertainment included a live painting being created by Archibald Prize finalist Jonathan Dalton.
The heart of the fundraiser is always the live auction by Damien Cooley, this time offering up a painting by Jonathan Dalton, a private dinner for ten guests with Damien Pignolet, a luxury boat experience with Illusion, an experience with Prancing Horse, accommodation at Wolgan Valley, an Australian Ballet experience, and a stay at Gwinganna Lifestyle Retreat.
This year's top raffle prize was a bespoke 14ct aquamarine and diamond ring created by local jeweller Matthew Ely, co-designed by Harriet Waugh.
The event raised an impressive $155,000, which will be donated to the acquisition of specialised equipment that will spearhead a new era in ultrasound technology for unborn babies.
The Royal Hospital for Women (RHW) is the only dedicated women's hospital in NSW, treating over 10,000 women every year, sending home more than 4,000 babies.
The donation will allow The Royal to purchase a Verasonics Vantage research ultrasound system.
This technology marks a major technological advancement for antenatal care, with the ability to identify risk factors for unborn babies in far greater detail than ever before. The Royal's unit will be the first in the Southern Hemisphere.
"The generosity of PHMG and guests of the Bistro Moncur Ladies Lunch will enable our Maternal Fetal Medicine team at The Royal to significantly advance the work we are doing to understand and identify risk factors in the unborn baby," announced Professor Alec Welsh, Maternal Fetal Medicine at RHW.
"The research-grade ultrasound system will be of enormous collaborative benefit, with this specialised equipment also supporting research projects in our Newborn Intensive Care Unit. Many babies and families will be positively impacted, and we have the opportunity to shape future models of scanning and care in pregnancy."
PHMG embodies a culture of philanthropic work, donating a remarkable $1.6 million since 2016 to charities such as the Sydney Children's Hospital, Black Dog Institute, The Royal Hospital for Women and SISTER2sister.
"We are tremendously humbled by the generosity of our community, and their willingness to get behind such a remarkable cause," responded Harriet Waugh.
"It's an honour to contribute to the work of the Royal Hospital for Women and enable them to purchase this new technology, which will bring us one step closer to preventing stillbirths."