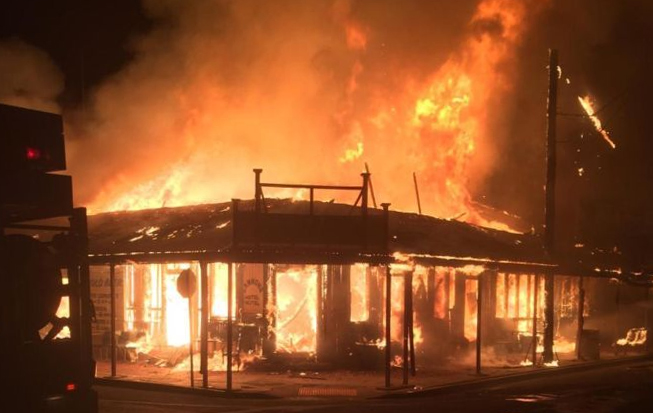 The hotel made famous in the 1956 film A Town Like Alice burned to the ground last Thursday night, but owners suggest it will be back – again.
Gannon's Hotel was originally built in 1925 and burned down in 1932. Bill Gannon reopened a handsome new country pub in 1935 that has since become an institution in the modest town of Julia Creek.
The hotel became the centre of a fictional Queensland outback community called Willstown, in the 1956 film A Town Like Alice, adapted from the 1950 novel by Nevil Shute.
Late Thursday night the white timber pub went up in flames due to what is believed to be a fire that started in the kitchen. Fire crews rushed to the scene soon after 1am, but little could be done to save the tinder-box building.

Julia Creek's annual Dirt n Dust Festival takes place in less than three weeks (April 17-19) and the town is understandably distraught given the icon's demise. The Townsville Bulletin quoted McKinley Shire Mayor Belinda Murphy as describing it as a "terrible loss to the town".
But the Bulletin also reported that freehold owners Peter and Julie Hayden, who leased the business 18 months ago after 18 years operating it themselves, are buoyant about its return.
The 12 adjacent motel rooms were apparently undamaged in the blaze, and hopes are high they will still play a part in the Festival, which attracts thousands of people to the town.
"It will be step by step," said Peter Hayden. "The insurance will have to be sorted out, but the clean-up of the site is something that will have to be done.
"One of the options will be to get it cleaned up as soon as we can and get a temporary bar operating."
The Hotel has taken to social media to show its gratitude to patrons and those that helped with the consequences of the fire. Send Gannon's a message of support here.
Thank you everyone for your support at this time.
We would like to thank everyone that has provided assistance and we did not fully understand how many people cared.
A huge thank you to the Julia Creek Fire brigade, Police, Ambulance and Doctor and nursing staff at the Julia Creek Hospital.
Management