Around 1200 of the industry's elite gathered last night at The Star to celebrate the Australian Hotels Association NSW's night of Excellence.
Germane to the ongoing strength of the hotel sector, the 2017 Awards for Excellence featured more than 600 nominees across a record 50 categories. (FULL LIST BELOW)
A number of venues and groups shone by the light of multiple accolades, most notably Chris Feros' impressive new pub The Prince, at Kirrawee*, which picked up Best New / Re-developed Hotel, Best Family Friendly Hotel, Best Casual Dining Venue Southern, and major award Hotel of the Year – City.
"So proud," Feros told PubTIC at the afterparty. "But the real pleasure is seeing people enjoy what we've created."
Headlands Hotel on Austinmer Beach picked up Best Outdoor Experience – Country, Best Pub style accommodation – Deluxe, and the major award for Hotel of the Year – Country.
Steven Hunt's group made nominations on a string of awards, taking home Best Traditional Hotel Bar – Country for the Rutherford Hotel. Similarly, Ash Lyons' Oxford Hotel was in the running for multiple honours, and took out Best Burger – Country.
"Really truly delighted that we got that award at the Rutherford," said Hunt. "Our licensee Josh is like a family member."
Alistair Flower took successes at his Settlers Inn Hotel in Port Macquarie further, given the prize for Heart of the Community, and personally as Individual Hotel Operator of the Year.
The dancing publican told PubTIC he is on track to reach nearly $30,000 in his quest to raise money and awareness for cancer research.
One of the sentimental favourite categories – the annual Hall of Fame and Cyril Maloney Medal recipient – was this year handed to brothers Mario and Bill Gravanis, directors of industry cornerstone Oscars Hotels, which has grown to include 18 pubs plus accommodation hotels since they founded it three decades ago.
"We're in the best industry in the world," said a humbled Bill on the podium. "I love this industry."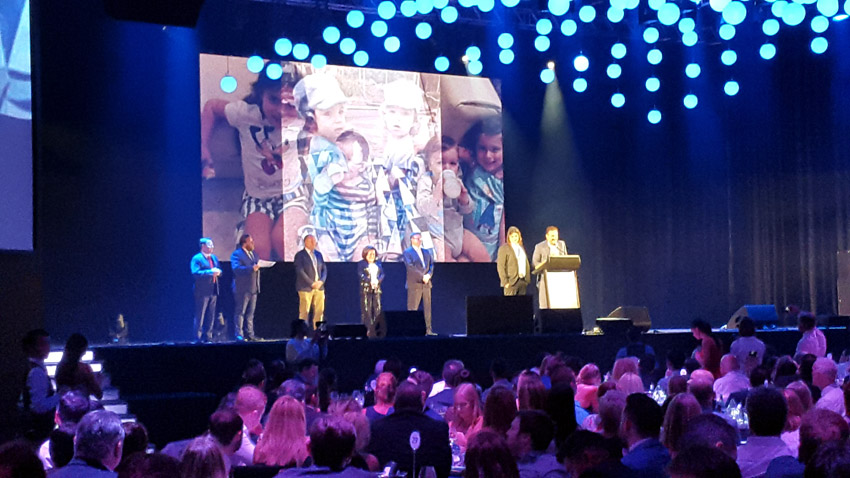 The annual Awards aim to recognise the everyday efforts of NSW venues and their 75,000 staff members.
"The Awards for Excellence recognises the best and brightest in the NSW hotel industry," offers AHA NSW CEO John Whelan.
"It's also a chance for hard-working publicans and their teams to celebrate all they've achieved over the last year. I would like to congratulate all Award winners."
*Feature article on The Prince from PubTIC magazine.

FULL LIST OF AWARDS AND WINNERS:
Best Bush Pub: Silverton Hotel
Best Traditional Hotel Bar –Country: The Rutherford Hotel, Rutherford
Best Traditional Hotel Bar –City: The Rose of Australia, Erskineville
Best cocktail/lounge bar: Junk Lounge, Cruise Bar, CBD
Best draught beer: The Lakes Hotel, The Entrance
Best wine list: The Dolphin, Surry Hills
Best retail liquor outlet: Warners At The Bay, Warners Bay
Best Family Friendly: The Prince, Kirrawee
Best outdoor experience – country: Headlands Austinmer Beach, Austinmer
Best outdoor experience- City: Watsons Bay Boutique Hotel
Best innovative refurbishment: Glasshouse, Hotel Steyne, Manly
Best new/re-developed hotel – country: Public House, Albury
Best new/re-developed hotel – city: The Prince, Kirrawee
Heart of the Community: Settlers Inn, Port Macquarie
Best promotional concept: Woollahra Hotel, Woollahra
Best social media activity: Rose of Australia, Erskineville
Best restaurant (country): Graze At The Willow Tree Inn, Willow Tree
Best restaurant (city): Bistro Moncur, Woollahra Hotel
Best casual dining venue – country northern: Honeysuckle Hotel, Newcastle
Best casual dining venue – country southern: Hibernian Hotel, Goulburn
Best casual dining venue – country western: Oriantal Hotel, Mudgee
Best casual dining venue – city CBD: Cruise Bar, Circular Quay
Best casual dining venue – city eastern: The Sheaf, Double Bay
Best casual dining venue – city southern: The Prince, Kirrawee
Best casual dining venue – city western: Bella Vista Hotel, Bella Vista
Best casual dining venue – city northern: Longueville Hotel, Lane Cove
Best steak venue: The Oaks, Neutral Bay
Best Burger Country: Oxford Hotel, Bathurst
Best Burger City: Union Hotel, North Sydney
Best steak sandwich: The Winston, Winston Hills
Best cheap eat meal under $15 country: Seaview Tavern, Woolgoolga
Best cheap eat meal under $15 city: Frisco Hotel, Woolloomooloo & Parkview Hotel, Alexandria
Best live music: Cambridge Hotel, Newcastle West
Best nightclub/nightlife venue: Albion Hotel, Parramatta
Best sports bar: Gregory Hills Hotel
Best gaming venue – country: Windsor Castle Hotel, East Maitland
Best gaming venue – city: Red Lantern, Bankstown
Best pub TAB city: Northies, Cronulla
Best Keno venue: Smithfield Tavern, Smithfield
Best pub-style accommodation – traditional): Seabreeze, Nelson Bay
Best pub-style accommodation – deluxe/overnight experience: Headlands Austinmer Beach, Austinmer
Industry rising star: Nicholas Powers, Keighery Hotel, Auburn
Bartender of the Year: Henry Hammersla, The Clock, Surry Hills
Chef of the Year – City: Chris Bell, The Rose of Australia, Erskineville
Chef of the Year – Country: Andrew Macartney, Seabreeze, Nelson Bay
Individual hotel operator: Alistair Flower, Settlers Inn, Port Macquarie
Group hotel operator of the year: Solotel
Hotel of the year – country: Headlands Austinmer Beach, Austinmer
Hotel of the year – city: The Prince, Kirrawee