Acclaimed Scottish craft brewery BrewDog may have missed the market with a new beer engineered to sympathise with and appeal to the transgender community.
Last week it released its 'No Label' Kolsch, citing its use of a variety of hops that change sex prior to harvest, collaboration with a London-based community group and significantly – all proceeds donated to "charities aiding transgender youth communities".
But 'Trans-sympathetic' and LGBTI* groups have slammed the effort, claiming it belittles their daily struggle to have attention draw to the subject by a mere product.
"It's hard enough to be seen as a person, so to take our very identity and apply it to a thing, a product … it's sickening," Tweeted Kortney Ziegler, co-founder of Trans*H4CK.
A spokesperson for charity Stonewall was quoted in The Independent saying they were "concerned about the language" and that is undermines the message of the Trans community.
'Street-wise' blog The Mary Sue accused BrewDog of "missing the point of everything forever" – although completely failing to make the point the brewer was "obviously" missing. TMS paraded a number of contextually questionable quotes (such as Ziegler), the strongest being a supposed "blasting" the company got recently for a different ad.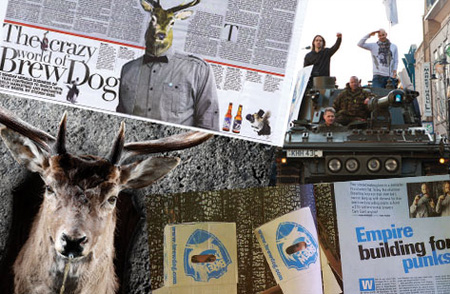 In an attempt to crowd-fund an expansion of the brewery, BrewDog appealed for investors by suggesting that without help they would need to beg for money on the street or perform cheap sex acts in an Amsterdam shop window.
The video (below), obviously intended in a humorous tone, depicted the brewers in animal costumes holding cups for change, and dressed Python-esque as tawdry prostitutes behind glass.
This was similarly (mis-)interpreted as "[picking] on sex workers, homeless folks, and trans women".
On BrewDog's own website, collaborator on No Label, Queerest of the Queer, seems a little more capable of some perspective.
"When we met the BrewDog team recently, we discussed what it means to live beyond the L and G in LGBTQI+, and delved deeper into the areas where labels don't really translate anymore," explains Dr J, the organisation's co-founder.
"BrewDog was super responsive and respectful and we could see their approach to diversity and inclusivity in brewing is pretty close to what it means to Queerest of the Queer."
The Scottish brewer stresses its philosophy includes siding with the minority – as seen in its recent beer release in protest of Russia's anti-gay laws, where half of all profits go to a supporting charity.
But BrewDog's reputation for publicity stunt-driven initiatives, which have included driving a tank down a street in London and dropping dead stuffed cats from a helicopter, have likely incited at least some of the discontent emerging from Trans groups.
"We've got a history of doing beers that help things we feel passionate about and that help minority groups, such as Hello My Name is Vladimir. People need to look at this in the context. We have worked with a charity to put this project together," Watt told Business Insider.
*LGBTI: Lesbian, Gay, Bi-sexual, Transsexual, Intersexed