Australian venue music-streaming service QSIC continues its rapid growth into the pub industry, celebrating another project at the new high-profile Garden State Hotel.
The company began live steaming mid-2014, evolving out of the Easy Control business of founders Nick Larkins and Matt Elsley. Larkins stems from a computer networking background in hospitality POS, and Elsley is an AV engineer with a history of audio solutions for venues.
The pair founded QSIC in 2012 to capitalise on emerging market trends and the fact that there was no legal way for venues to use music from popular streaming services Spotify or Pandora legally in commercial premises.
"It took six months of talking about this idea before we decided we have to build this product for the industry," Elsley told PubTIC. "Streaming is undoubtedly where the market will head."
After a couple of years R&D, the service launched just over two years ago and QSIC reports it is currently growing its client list at the rate of 300 per cent per quarter, and just surpassed 1.5 million streams in Q4 of FY16.
Clients now include all Colonial Leisure Group venues, Publican Group venues, and all Sand Hill Road's pubs including the swanky new Garden State.
"A real focus for us is making life as easy as possible for our clients and making sure they are getting exactly what they want," says Larkins.
"We digest all research available regarding music and bottom-line management, we then take a solid data-driven approach to understanding what works best for a specific business and its patrons or customers and then we go on to deliver bespoke content."
The company has negotiated direct agreements with major and independent labels for the provision of streaming, giving its clients security that the music is completely above board and artists are being paid appropriately.
For a monthly fee licensed venues subscribe to the QSIC platform, gaining access to millions of songs and thousands of custom playlists. Curated and branded playlists can be provided, and syndicated if required. It incorporates a mobile app and social media integration, and offline usage.
Additional features include API access, scheduling, consumer analytics, digital signage integration, centralised control, audio advertising, multi-zone content and more.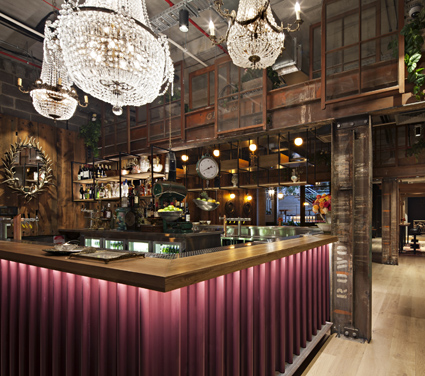 Sand Hill Road's Matt Mullins says the zoning functions were perfect for their new large-format four-level pub.
"QSIC's ability to scale right up to our huge, multi-zone venue without issue was impressive.
"Not only that, but our staff have needed little to no training in using the platform because it's so easy to use."
QSIC is an 'acroname' for "Q the Music!"