Manly landmark the Hotel Steyne has taken food to the street, opening the family-friendly Harry Phat's restaurant over the weekend.
Occupying the bespoke second-floor space formerly inhabited by Manly Phoenix Yum-Cha, the new Asian street food-styled venue is part of management's intention to "take ownership of the venue".
The hotel recruited chefs of Japanese, Korean and Chinese background to fulfil plans for the diverse Asian-themed menu.
The Steyne's events and marketing coordinator, Samantha Hansen, told PubTIC the launch was a big success and there will be another Harry Phat's activation this weekend.
"The opening went really well. We got good feedback on the new menu, which is a combination of mainly Japanese, Thai, Chinese and Vietnamese food.
"The balcony is a highlight of the space, you can see over Manly beach, with gorgeous afternoon sun. It's really casual, and a unique part of the hotel."
The historic Manly venue has epitomised innovation in its long relationship with local activity, becoming one of the first late-traders and indelibly linked with Manly nightlife.
The area's continued gentrification has meant a need to change with the times, resulting in Moonshine – possibly Australia's first dedicated cider and rum bar – opening in 2012.
Harry Phat's is part of a new drive to make the hotel even more appealing to families, with general manager Steve O'Sullivan hinting at more changes to come.
"We are really excited about the direction the pub is going," said O'Sullivan.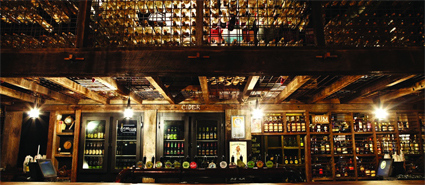 Moonshine, in The Steyne Hotel