By Emma Castle
May Hotels has unveiled its latest brand refreshment of Manly Wharf Hotel in time for the summer season.
The iconic Manly Wharf Hotel is located within the historic wharf at Manly where the ferry docks, literally above the water lapping onto Manly Beach.
The now-completed upgrade included extending the bar so the team can serve the full cocktail list, as well as changing the menus, refreshing the look of the space, and working with authorities on refurbishing the wharf.
GM Justin Tynan says it is all part of a long-term strategy to stay top-of-mind.
"We try and reinvent ourselves every 12-18 months, so we stay current within the community. We want to retain our current customers, yet attract new ones from the city, as well as tourists.
"It's all about innovative and exciting cocktails, as well as Frosé and wine on tap as we head into summer. We are now rolling out lots of different and fun activations in the space, which will definitely keep our customers excited throughout the summer months."
Head chef Kristen Hooper's menu includes a mix of healthy salad bowls like a satay tofu Buddha bowl, Thai noodles with soft shell crab, a poke bowl and miso eggplant, as well as classics like surf and turf, burgers and the Jetty platter with tiger prawns, Moreton bay bugs, oysters, beer battered fish, soft shell crab salad, Japanese style tuna tartare, chips and wharfie sauce.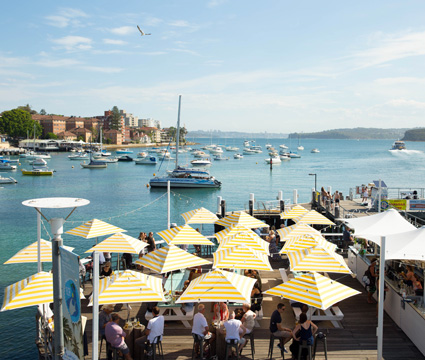 The only issue the team has faced over the refurbishments is the heritage listing of the wharf; practised at the tweak process, Tynan says he hasn't experienced any problems to date alienating the 'rusted-on' crowd.
"We had issues being able to upgrade due to the jetty being a heritage site, so must follow heritage laws," he says. "People love the change as long as it's done right."
The extended bar means the Manly Wharf Hotel is now on the hunt for experienced cocktail staff to cover the increased capacity.