Leading brewer Lion is tapping into consumer trends – today launching a new labelling and education campaign to inform drinkers of the nutritional "truth" about beer.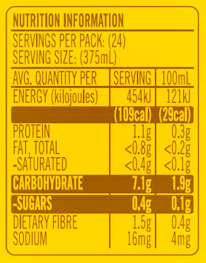 The campaign is stage one in Lion's broader "Beer the Beautiful Truth" initiative, bringing labelling on the brewer's Australian beers more in line with existing standard drinks and pregnancy labelling.
It is the result of extensive consumer research that found 73 per cent of consumers want more information on the beer they drink¹, and 87 per cent not knowing what goes into beer².
"Despite the fact beer is still the drink of choice for most Australians, our knowledge of how it is made and what is in it is pretty patchy," says Lion managing director, James Brindley.
"Most people think beer is full of sugar and preservatives, when in actual fact our wholly-owned Australian beers are preservative-free and most are on average 99.9 per cent sugar-free."
Brindley says Lion is committed to the campaign for the long-term, and believes "busting myths" and providing greater public education on beer will help reinvigorate the category and contribute to benefits across the liquor and hospitality industries. He says the 'transparency' will show support for consumers to make more informed choices.
"This builds on Lion's continued investment over more than two decades in the light and mid-strength categories of the beer market, with lower strength options now accounting for close to one in four beers consumed in Australia³ – providing plenty of choice for those looking to moderate alcohol consumption, without sacrificing flavour."
Dietitian Catherine Saxelby says although people are becoming increasingly aware of the importance of nutritional labels, alcoholic drinks are often not taken into account.
"It's not uncommon for people to underestimate the number of calories in the drinks they consume, so having nutritional information on alcohol products will enable people to enjoy a drink, while still being mindful of how it can fit within a moderate healthy lifestyle."
The new labelling component will provide information on sugar, preservative, calorie (kilojoule) and carbohydrate content, and initially roll out on Lion's biggest beer brands (XXXX, Tooheys, Hahn, James Squire).
Further steps in the program will include a public communications program, with various on-premise components to complement the message.