Awards season has begun, with the country's capital and the Festival State honouring their best and brightest in the annual Awards for Excellence.
Last week 470 industry and political leaders gathered at Hotel Realm to conduct the 2019 Australian Hotels Association (AHA) ACT Hospitality and Tourism Awards, honouring the territory's best hotels, pubs, restaurants and bars.
The Association reports this year produced a record number of nominations, for awards across 32 categories. This round of awards also saw new anonymous expert judges, independent of the AHA ACT.
Amongst a field of winners, Best Traditional Pub went to Mooseheads in Canberra City, and Best Pub Eatery to 1882 Bar and Grill. Full list of winners HERE.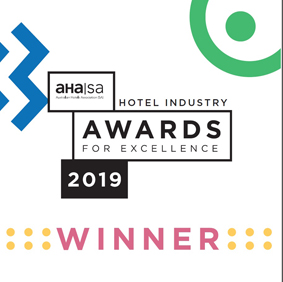 Last night (30 July) the pride of South Australia flocked to Adelaide Entertainment Centre to partake in the AHA|SA Hotel Industry Awards for Excellence 2019.
More than 860 people attended, joining nominees in 33 categories to witness the crowning of the 2019 greats.
Standout of the night was the Crafers Hotel from the Adelaide Hills, recognised for the second year in a row as Best Overall Hotel in South Australia, while also taking the highly competitive categories of Best Bistro Casual Dining – Outer Metropolitan and joint winner with Gawler's The Exchange for Best Bar Presentation & Experience – Metropolitan.
The uber-chic Crafers is a result of the hard work and dedication of owners Julie and Ed Peter, with business partners Brett Matthews and Jodi Brumby.
Adelaide's picturesque Hills proved flavour of the night, also welcoming home trophies for Best Draught Beer Quality – Metropolitan at the Barker Hotel, Environmental & Energy Efficiency Practice at the Uraidla Hotel, and two accommodation awards for Mount Lofty House in Crafers.
And one of the State's most remote pubs – the Innaminka Hotel, 1065km north-east of Adelaide – won the award for Best Tourism & Regional Promotion. The honour came courtesy of its successful marketing and tourism plan established in 2016, drawing many people to the hotel and region, and its part in destination venture the 'Outback Loop', promoting outback South Australia to the world.
Other major awards included Electra House taking home the coveted Best Restaurant – General Division Metropolitan, and Adelaide's Sparkke at the Whitmore and Virginia's V Hotel sharing Best Redeveloped Hotel – Metropolitan.
AHA|SA GM Ian Horne congratulates all the winners, espousing the versatility of his home state.
"The South Australian hotel industry is a diverse and high-quality industry that offers something for everyone.
"Whether it be enjoying a meal or drinks with friends, experiencing live music from the best local and international artists, or travelling throughout South Australia to experience this great state of ours, South Australian hotels continue to offer top class hospitality, accommodation and entertainment.
"All winners should be very proud of their achievements, and for what they contribute to the community in SA".
Winners from both Awards will go on to compete at the National AHA Awards, to be held at the Gold Coast on 16 September.