Key Kings Cross venues will join Keep Sydney Open for the massive MEET ME IN THE CROSS party on 1 July – sustaining the fight against the lockouts and showcasing late-night culture.
Solotel's Kings Cross Hotel, Potts Point Hotel (formerly The Sugarmill) and World Bar will be amongst venues hosting a huge line-up of bands and DJs, with ticketed patrons able to "move and bounce" between rooms and venues.
The event is an initiative by nightlife crusaders Keep Sydney Open (KSO) in association with community group Eastside Sydney, as well as the collective of venues in the precinct.
KSO's Tyson Koh says supporters cannot wait for government to repair the decimation caused by the lockout laws, and believes there are plenty of "hungry bands and DJs" relying on the city's cultural climate.
"Meet Me In The Cross is a chance to celebrate what Sydney nightlife should be," explains Koh.
"The government has said it wants us to go to bed early, but we know that's not how an adult city behaves. Instead, we're going to come together in the spirit of fun, music and good times while supporting Keep Sydney Open to continue our fight against the damaging lockout laws."
Precinct landmark the Kings Cross Hotel has traditionally hosted multiple bands on multiple nights of the week, but the reduction in foot traffic to the area has seen this scaled back, and entertainment manager Adam Lewis says they are eager to show what they can do.
"A safe, vibrant and inclusive nightlife is essential to any city, and we're looking forward to teaming up with like-minded venues from around Kings Cross to demonstrate just how good our late-night culture can be," Lewis told PubTIC.
The relaunched Potts Point Hotel will offer multiple options, with Kit & Kaboodle transformed into a 'deep house & techno' room, while the ground floor and Sweethearts rooftop bar play slightly more commercial house music and disco.
"Potts point hotel will be taken over for the night by T1000 events from Electric Gardens fame and Zoo Project, with DJs playing over three floors, including Carlo Gambino, Eddy Wells and Tristan Case," venue manager Sasha Howison told PubTIC.
The $30 ticket includes entry to all venues.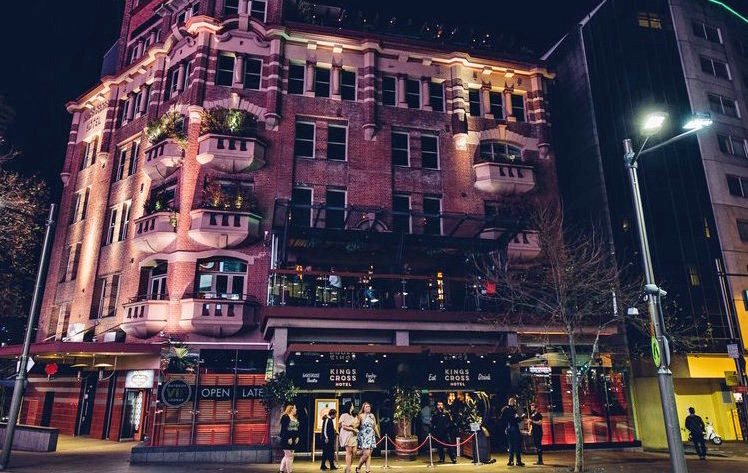 Venues:
Kings Cross Hotel – 244–248 William St
World Bar – 24 Bayswater Rd
Potts Point Hotel, including Sweethearts Rooftop – 33-35 Darlinghurst Rd
Candys Apartment – 22 Bayswater Rd
Crane Bar – 32 Bayswater Rd
Jangling Jack's – 175 Victoria St
The Old Growler – 218 William St
Playing:
Hermitude (DJ Set)
Thundamentals (DJ Set)
Nina Las Vegas (DJ Set)
Fishing (DJ Set)
Dapple Cities (Live)
Mezko (Live)
World Champion (Live)
Joining:
Adi Toohey
Andy Garvey
Ariane
Anya
Astral People DJs
Bad Deep DJs
Bassia
Ben Fester
Castlezz
Eddy Wells
Frankie Romano
Freda & Jackson
Future Classic DJs
Hubert Clarke Jnr
Jesse Redwing (Live)
Jon Watts
Le Fruit
Kato
Mike Who
NES
Richie Carrera
Sam Weston
Shantan Wantan Ichiban
Zac Waters