Good Beer mecca the Keg & Brew reopened yesterday after a big $10 million top-to-bottom refurbishment and expansion, including a new rooftop bar.
The four-level building on the corner of Foveaux and Commonwealth streets, just up the road from Central Station, was built in the 1880s as a terrace home.
Since becoming a pub, for years it traded under the moniker the KB Hotel, before John Azar's Good Beer Company (GBC) bought it in late 2014, promising a makeover, producing a beer-appreciation-led rotation of 30+ taps and some overdue sophistication.
It reopened before Christmas under its tweaked title, the Keg & Brew.
Five years later, having established itself as one of the craft beer stalwarts of Sydney, the Keg has undergone an even more extensive makeover.
Listed as a heritage structure, the original exterior was painstakingly preserved and restored, and a number of additions by previous owners thoughtfully removed. Inside, elements such as the original staircase and wall layouts were also guided by its historic preservation.
GBC engaged architects Woodhouse Danks and John Cameron Constructions for the building works, requiring a partial rebuild of the property, in the heart of one of Sydney's bustling commercial and lifestyle precincts.
"The new-look Keg & Brew is a stylish reincarnation of the hotel that has been a significant fixture in Sydney's pub life for more than 140 years," says Azar.
"The ongoing rejuvenation of this pocket of the Foveaux Street precinct is what attracted my initial interest in investing in an historic site that will offer a new level of service, comfort and enjoyment to the many thousands of people who either live, work or visit this part of the city."
The ground floor public bar still offers over 30 taps pouring craft and mainstream brews, and a solid pub menu of burgers, schnitzels and steaks. The former guest rooms on level one have become a 70-seat restaurant with its own bar, and on level two is now a series of function spaces for up to 120-pax.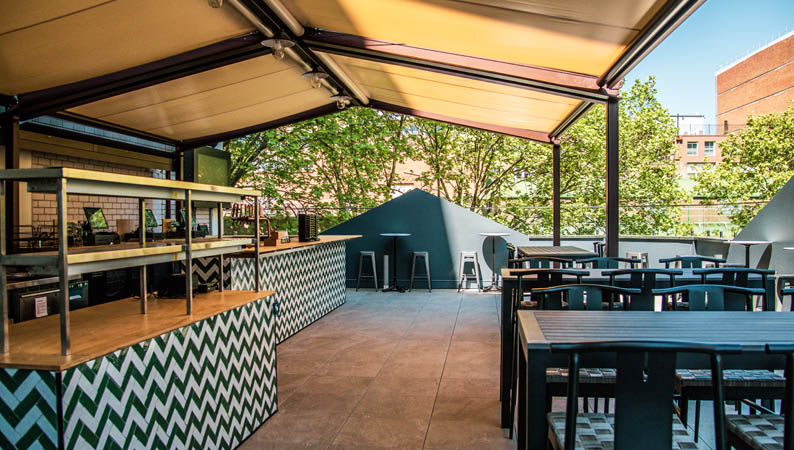 Most spectacularly, there is now an open-air rooftop space boasting panoramic views of the city, offering a bar and pizza oven, and one of Australia's largest state-of-the-art televisions.
GBC also owns the Four In Hand in Paddington, the Duke of Gloucester in Randwick, and most recently the Commodore Hotel in McMahons Point. Azar believes the expanded operation will be a great addition to Surry Hills.
"The Keg & Brew, in its latest format, will add an important and exciting sector to the city's emerging quality entertainment and hospitality facilities."