PHMG has sold its highly speculated Four in Hand to the Good Beer Company, marking its continued future as a pub.
Mitchell Waugh's Public House Group purchased the Paddington icon in 2015, clinching a hattrick of pubs in the precinct with the formerly two-hatted pub restaurant led by celebrity chef Colin Fassnidge.
Despite ongoing success at its other two nearby pubs, the Woollahra Hotel and Royal Hotel Paddington, PHMG put the fabled Four to market mid-April, offering opportunity for conversion to a private residence. The licence and EGMs were to be relocated.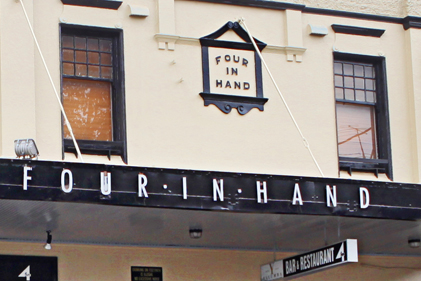 The prospect of the suburb losing another of its historic pubs to residential redevelopment prompted a wave of community outcries and consummate media attention. The mobilised resident lobby group amassed over 10,000 signatures in the pursuit of preventing any development.
Whether prompted by the backlash or simply optimising options on the asset, PHMG subsequently listed the pub as a freehold going concern through Ray White Asia-Pacific director Andrew Jolliffe.
A sale has now been confirmed to John Azar's Good Beer Company, proprietors of craft beer haven the Keg & Brew and large-format Randwick beer mecca The DOG, for a price reported by the AFR to be around $7 million.
"Quite clearly there are hospitality properties out there which enjoy alternative use opportunities; however, in my view some are simply either too iconic or important to the fabric of a community to make wholesale changes to, and I think this is true of the Four in Hand," suggests Jolliffe.
Despite there being fourteen pubs trading in the suburb of Paddington, locals were outraged that the historic Four, as it is known, may be demolished or converted into residential property.
The pub was always a true locals' local, located ten blocks off main road Oxford Street, and after rallying around its salvation, it's time they put their dining money where their mouth is.
"It is imperative that the many passionate constituents whom participated in the petition to keep the Four in Hand a hotel, must now back up this show of unity with a show of patronage at the hotel; and others in the area," furthered Jolliffe.
The "strong" sale price was not provided, but Jolliffe asserts it was materially greater than the negative speculations of media in recent months.
Neither Mitchell Waugh nor John Ahern responded to contact on the breaking news prior to publication.