Media giant oOh! has launched a video display and wi-fi service for pubs called Bite TV, providing screens and internet at no cost to venues.
Bite TV is a network of high-def screens in key locations such as behind the bar, showing viral video clips and breaking news the company says are "curated to spark conversation" and entertain patrons while they wait.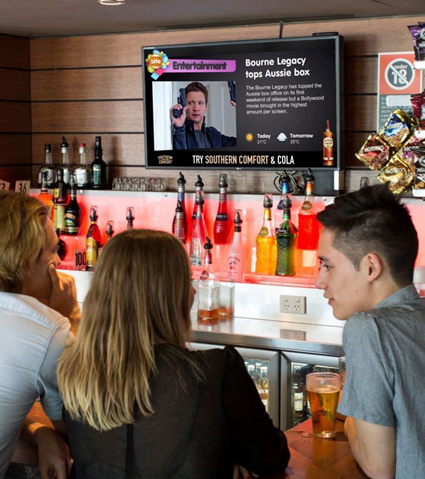 oOh! media (Out Of Home) is one of the largest display advertising companies in Australia, dominating billboards across the country and recently buying rival Adshel for $570 million. It is pioneering state-of-the-art integrated marketing campaigns combining data and insights.
The Bite TV screens are provided free to venues, funded by limited ad content* in the video feed.
The pub's video can include its food and drink specials and event promotions, through branded templates supplied, and social media postings can be scheduled to display automatically.
The company also provides a free wi-fi service with the package, for patron and staff use.
The complete system, including all screens and content, is managed by oOh!
"The whole platform is free," stated an oOh! representative. "The venue will not pay a penny, apart from the cost of running the screens."
*oOh! reports ad content will not include any competitors to the host venue.
(example of video content)