The 2017 Australasian Gaming Expo (AGE) will begin in just 11 days – already breaking records as the biggest show ever, as construction begins.
Ending a stint at the temporary Glebe Island facility, the AGE will make its triumphant return to Darling Harbour this year at the new Sydney ICC (International Convention Centre).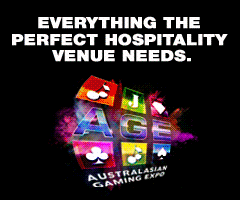 The new state-of-the-art ICC is better equipped and physically 17 per cent bigger than any previous AGE and event organiser the Gaming Technologies Association (GTA) recently reported the challenge to expand into the bigger space has been overcome, with exhibitors now at capacity.
Post-event visitor surveys typically cite 'the latest games and gaming technology' as the primary reason hospitality professionals come to the AGE, but the 248 exhibitors will be showcasing a broad range of products and services, from A/V to uniforms, finance to furniture.
2017 also sees the introduction of the AGE seminars, bringing guest speakers on venues, research, cash and a range of other topics. The GTA reports the 1,120 spaces in the complimentary sessions have also been booked out.
And while visitor registration is still open, and free to the hospitality industry, pre-registration is also up 26 per cent on the same time last year, in line with the event's anticipation amongst industry.
Speaking recently with PubTIC, GTA CEO Ross Ferrar relayed that making the most of the much larger space for 2017 had been the biggest hurdle they were facing, but now it is physically building the big day. (continues)
"No effort has been spared to make sure that visitors will be dazzled and entertained by the event and its exhibitors," says Ferrar. "With digital show bags, cutting-edge signage, an 'ask me' event team and many other new features, we're making sure that visitors experience much more than they ever have before."
As mouthpiece for the industry, Ferrar speaks of the benefits of an industry that provides entertainment for millions and employment for tens of thousands of Australians, noting anyone that has "driven on a road, studied at school or university, or visited a hospital in Australia over the last 10 years" has benefited from the more than $50bn paid in taxes to Government.
But as the boss that also gets to inform the winners of the trips to Vegas given away each day at every AGE, Ferrar has less to say.
"Since 2011, 30 visitors plus their partners have received tickets to Las Vegas, and each time they are won, the winners are totally elated.
"Of course, because whatever happens in Vegas tends to stay in Vegas, we've never had any of them come back to us with any further comments."