The Hotels Have Hearts gala dinner has been and gone for another year, with publicans raising a record-breaking $750,000 in aid of St Vincent de Paul.
Hotels Have Hearts (HHH) was established in 2001 by a group of generous hoteliers that wanted to do more to help Sydney's homeless.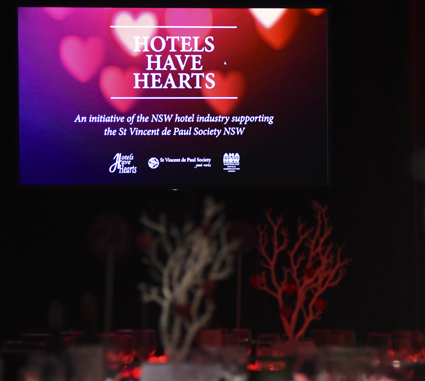 Since 2002 the event has been biennial, and the last dinner, in 2016, drummed up a record-setting $619,000. The latest instalment, which took place earlier this month, brought the total raised to more than $4.5 million.
"Hotels Have Hearts is a statement from the NSW hotel industry that we care, that we are prepared to give, that we believe in a society where those who can help, do so for those who are struggling to keep their heads above water," stated Kim Maloney OAM, HHH committee chairman.
"The record result from this year's event is proof of what can be achieved when we all work together for an important cause. I am proud that the money raised will continue to go towards the critical work that Vinnies undertakes to encourage personal and community resilience by giving the homeless a hand up rather than a hand out."
Monies raised have contributed to significant improvements at the St Vincent de Paul Society's Matthew Talbot Hostel, including support for the home outreach service and medical equipment, as well as a training kitchen, computer laboratory and art studio.
HHH is sponsored by the Australian Hotels Association, and Maloney notes the contributing support of an extensive list of sponsors, generous industry colleagues and friends.
"Sadly, the most recent Census data shows that there are now 116,000 fellow Australians living with the uncertainty and despair of homelessness," says Jack de Groot, CEO, St Vincent de Paul Society NSW.
"This means much more than a lack of shelter, but a lack of safety, confidence and connection to loved ones and the wider community.
"The Hotels Have Hearts event was not only a great night had in celebration of the spirit of collaboration and generosity, I am pleased to say that the proceeds will mean we can continue to change the lives of those that need it most well into the future."
The HHH committee:
Kim Maloney, OAM, Maloney Hotel Corporation
John Ryan, Ryan's Hotel Group
Jenny Farrell, Schwartz Family
Danielle Willis, Laundy Hotel Group,
Patrick Gallagher, Gallagher Hotels
Martin Short, W Short Hotel Group
Jack Lucas, John Lucas Hotel Management
Stephen Harvey, Harvey Hotel Group
Br Dan Stafford OAM, Fundraising Ambassador St Vincent de Paul Society NSW