The heroes of Henty, who rescued and revived the town's only pub, have listed it to pursue attempts to return to a life of normality.
Henty is a town of around 1200 souls, midway between Albury and Wagga Wagga, in the Riverina district. The township was originally named Doodle Cooma, before adopting its current name in 1888.
In 1889 the Doodle Cooma Arms Hotel opened, as the town's first pub and public meeting place, and 130 years later it remains the only pub in town.
In late 2016 then owner Paddy Hodgkin announced its imminent closure, after years of trying to find a buyer for the tired business. The town rallied, looking for a solution and private investor, even entertaining a community-owned enterprise.
But rescuing the historic watering hole, local business owners Josh and Tania Corrigan agreed to take it on.
"It looked as though it was going to close, and we only came on board in the final hour, to keep the pub going," explains Josh. "I've got a successful building business, with several staff that we employ. Myself and my wife run the business ourselves, and I've got four young kids, so we were up against it to say the least before we actually purchased the place."
More than handy with the tools, the Corrigans have executed substantial renovations and ensured the building's maintenance is up to date. Josh says the well-loved pub was "quite run down" simply due to neglect from age.
"Structurally it's a beautiful old pub, but everything was very original, and it just needed some TLC spent on it that no-one had really done."
The works have facilitated a more successful kitchen operation, and upgrading the accommodation rooms and facilities has brought far greater occupancy and customer satisfaction.
The business itself has been operated under management, with the community-driven Corrigans close in the background.
However, juggling four up-and-coming citizens of Henty and the increasing success of the family's building company, Cobber Dog Constructions, currently booked into 2019, Josh says something's gotta give.
"If we can sell the pub in the next six months, we can go back to a bit more normality in our family life," he says. "Our kids are starting to grow up a bit and the sporting roles are becoming quite hectic, so we're doing a lot more travelling than we used to."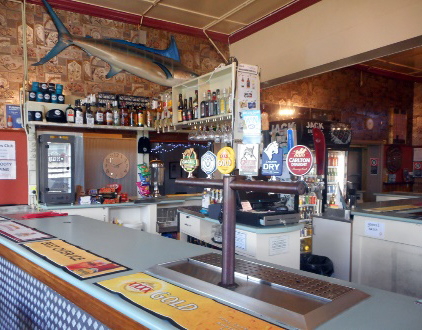 Established in 1889 and rebuilt in 1918, the two-storey pub boasts a public bar, commercial kitchen, dining room, bistro, beer garden, 11 accommodation rooms plus a manager's residence, and a gaming room with four EGMs.
Turnover last year was over $860,000, with outgoings including wages for management staff. Sources suggest it will see offers in excess of $1 million.
Hoping to ideally find a local buyer, the family has engaged CRE Brokers Albury's Ian McDonald, who says there are plenty of upsides for a skilled owner-operator.
"I think this hotel will benefit strongly from having an owner-operator there, that's in-place. In a hotel capacity, you're expected to be there in that environment.
"Current trading hours sees the kitchen full menu operating only two nights a week. The operator would have genuine scope to improve this revenue stream, and other associated hotel revenue opportunities as a result of increased clientele through the doors."
The freehold going concern of the Doodle Cooma Arms Hotel is being sold via Expressions of Interest, closing midday Thursday, 14 June.