Adelaide pub royalty the Hurley Group have unveiled their new take on cuisine at their Hotel Royal in Torrensville, presenting Condesa Mexican under talented multi-national chef Ashley Nguyen.
Jenny and Peter Hurley's daughter recently returned to working with the group, and was tasked with addressing the Royal's tired food offering.
"I gave Samantha a project to research a change in direction for our underperforming food operation," reports Jenny. "We had a fabulous chef and some amazing staff, but we weren't able to kick goals."
After decades under the old banner, Samantha's answer was to completely convert the space within the Art Deco Hotel to one inspired by a beautiful bohemian district in Mexico City called La Condesa, meaning 'The Countess'.
The streets of La Condesa precinct are lined with trees, and a stunning collection of Art Deco buildings, with plenty of chic boutiques and hospitality venues, and dancing in the streets at night.
Plans for the Royal's new restaurant were progressing well, when chef Trent Benbow was tempted away to another job, closer to home in McLaren Vale.
Serendipitously, Ashley Nguyen applied for the new position. Born in Australia to Vietnamese-French and Irish parents, Nguyen completed his chef apprenticeship at Zapata's Mexican in North Adelaide. He went on to twice win Best Mexican Restaurant in South Australia, at Viva Zapata's (Semaphore) and Mexican Society (Chinatown).
"Ashley shows you can excel with any cuisine, no matter your background, through passion and dedication," says Jenny Hurley.
"Living by the motto 'food is everything' he has taken every opportunity to develop his culinary skills and knowledge of Mexican cuisine, allowing us to serve some of the most authentic and modern Mexican dishes in Adelaide."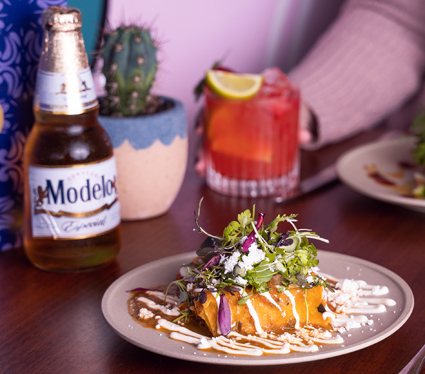 Condesa Torrensville at the Hotel Royal, is a "new take" on traditional Mexican food, encapsulating the essence and flavours of the famous Mexican streets.
Minor décor changes were needed to make the new Condesa bar feel in place with the building, and a new drinks list completed the picture, bringing on Mexican beers, an extensive range of tequilas, and of course the quintessential Margarita.
"Our menu is made for sharing – but even if flying solo, we have an extensive list of Tequilas and Mezcals to keep you company."