ALE has posted its annual results, with its nine per cent valuation lift and profit increases boding well for the pub industry.
Listed ALE (ASX: LEP) is the largest landlord to Australia's largest pub group, ALH, owned by Woolworths and the Mathieson family.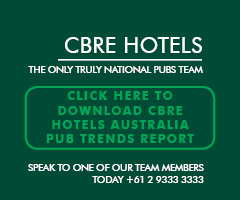 ALE comprises 86 freehold hotel properties across five states, all leased to ALH. The reported results included valuations on 33 of the assets by Herron Todd White and CBRE, and the remaining 53 by the directors. (full list of properties and valuations below)
The portfolio came in at $1.08bn – up 9.1 per cent. This backs up an increase in 2016 of more than 10 per cent.
Net profit after tax was reported at $130m, which included value adjustments and finance amortisation. Rental revenue was $57m, with distributable profit of $29.1m. This is an increase of 1.5 per cent, in line with CPI.
Much of the sharp valuation increases stem from the strict rental reviews written into ALH's leases, which currently average 11.7 years across the 86 properties.
While four properties saw rental increases of more than 10 per cent in the past year, November 2018 will see a good portion of the portfolio due for the next scheduled rental review.
"The 2018 review will be most significant for ALE and we expect a positive result," stated ALE CEO Andrew Wilkinson.
ALE has also benefitted from plenty of capex works by ALH, adding more than 30,000m² on its properties over the past 14 years.
Notable inclusions in redevelopments are Melbourne's Young & Jackson, soon to benefit from the CBD South metro station being constructed around it, and the Crows Nest Hotel in Sydney's lower north shore, benefitting from a recent massive $9m+ makeover. (see video below)
In line with the national shortage and focus on accommodation, the ALE-ALH partnership has brought 428 more rooms online, largely renovated and reactivated existing spaces. ALH boasts around 1900 rooms nationally across its 330+ pubs, predominantly 3-4-star.
ALE is one of the increasingly sought after A-REITs (Australian Real Estate Investment Trust) replacing the traditionally family-owned specialist real estate portfolios. In an educational submission by Wilkinson to the ASX, he notes Australia's combined capitalisation of $110bn in A-REITs is 12 per cent of the US, and nearly 30 per cent higher than the UK.
Wilkinson suggests the market for pubs is strong and maintains the company is still considering acquisitions.
"ALE and ALH continue to explore opportunities to work together on redevelopment of under-utilised properties for mutual benefit."
ALE's share price closed yesterday (8 August) at 4.77 – up just 1pc pre-announcement, but up 160 per cent on its low in April 2009 of $1.83c per security.
New South Wales
| | | | |
| --- | --- | --- | --- |
| Properties | 1Net Rent | Yield | Value |
| Blacktown Inn Hotel | $606,142 | 4.70% | $12,900,000 |
| Brown Jug Hotel | $650,415 | 5.04% | $12,900,000 |
| Colyton Hotel | $939,562 | 5.07% | $18,520,000 |
| Crows Nest Hotel | $931,871 | 4.90% | $19,030,000 |
| Melton Hotel | $348,427 | 4.94% | $7,050,000 |
| Narrabeen Sands Hotel | $800,122 | 5.16% | $15,500,000 |
| New Brighton Hotel | $517,824 | 4.71% | $11,000,000 |
| Pioneer Tavern | $646,454 | 4.65% | $13,900,000 |
| Pritchards Hotel | $1,679,895 | 5.76% | $29,140,000 |
| Smithfield Hotel | $469,145 | 4.91% | $9,560,000 |
| SUB TOTAL | $7,589,859 | 5.08% | $149,500,000 |
Queensland
| | | | |
| --- | --- | --- | --- |
| Properties | 1Net Rent | Yield | Value |
| Albany Creek Tavern | $860,329 | 4.99% | $17,240,000 |
| Alderley Arms Hotel | $358,116 | 4.87% | $7,350,000 |
| Anglers Arms Hotel | $562,911 | 5.36% | $10,500,000 |
| Balaclava Hotel | $626,673 | 4.93% | $12,710,000 |
| Breakfast Creek Hotel | $922,616 | 5.01% | $18,410,000 |
| Burleigh Heads Hotel | $753,905 | 5.07% | $14,880,000 |
| Camp Hill Hotel | $236,413 | 3.48% | $6,800,000 |
| Chardons Corner Hotel | $124,778 | 3.80% | $3,290,000 |
| Dalrymple Hotel | $607,704 | 4.82% | $12,600,000 |
| Edge Hill Tavern | $322,810 | 5.04% | $6,410,000 |
| Edinburgh Castle Hotel | $358,592 | 5.07% | $7,080,000 |
| Four Mile Creek | $440,746 | 5.05% | $8,725,000 |
| Hamilton Hotel | $617,870 | 4.26% | $14,500,000 |
| Holland Park Hotel | $628,167 | 4.55% | $13,800,000 |
| Kedron Park Hotel | $234,592 | 5.31% | $4,420,000 |
| Kirwan Tavern | $586,606 | 5.06% | $11,600,000 |
| Lawnton Tavern | $525,418 | 6.06% | $8,680,000 |
| Miami Hotel | $677,535 | 5.14% | $13,190,000 |
| Mount Gravatt Hotel | $353,619 | 5.07% | $6,975,000 |
| Mount Pleasant Hotel | $524,407 | 5.35% | $9,800,000 |
| Noosa Reef Hotel | $652,753 | 5.81% | $11,240,000 |
| Nudgee Beach Hotel | $323,516 | 4.79% | $6,750,000 |
| Palm Beach Hotel | $767,466 | 5.26% | $14,580,000 |
| Pelican Waters Hotel | $470,424 | 5.52% | $8,530,000 |
| Prince of Wales | $401,571 | 4.14% | $9,700,000 |
| Racehorse Hotel | $195,627 | 3.01% | $6,500,000 |
| Redland Bay Hotel | $500,506 | 5.01% | $10,000,000 |
| Royal Exchange Hotel | $590,741 | 6.00% | $9,850,000 |
| Springwood Tavern | $959,324 | 5.13% | $18,710,000 |
| Stones Corner Tavern | $593,021 | 5.60% | $10,590,000 |
| Vale Hotel | $747,871 | 5.34% | $14,020,000 |
| Wilsonton Hotel | $570,011 | 5.09% | $11,190,000 |
| SUB TOTAL | $17,096,639 | 5.02% | $340,620,000 |
South Australia
| | | | |
| --- | --- | --- | --- |
| Properties | 1Net Rent | Yield | Value |
| Aberfoyle Hub Tavern | $396,917 | 5.75% | $6,900,000 |
| Eureka Hotel | $358,657 | 5.98% | $6,000,000 |
| Exeter Hotel | $241,235 | 5.52% | $4,370,000 |
| Finsbury Hotel | $201,753 | 5.24% | $3,850,000 |
| Gepps Cross Hotel | $294,267 | 4.76% | $6,180,000 |
| Hendon Hotel | $214,751 | 5.32% | $4,030,000 |
| Stockade Tavern | $348,484 | 5.89% | $5,920,000 |
| SUB TOTAL | $2,056,064 | 5.52% | $37,250,000 |
Victoria
| | | | |
| --- | --- | --- | --- |
| Properties | 1Net Rent | Yield | Value |
| Ashley Hotel | $470,353 | 4.94% | $9,530,000 |
| Bayswater Hotel | $1,179,673 | 5.49% | $21,500,000 |
| Berwick Inn | $1,200,035 | 5.83% | $20,580,000 |
| Blackburn Hotel | $1,019,649 | 5.37% | $19,000,000 |
| Blue Bell Hotel | $252,735 | 4.83% | $5,230,000 |
| Boundary Hotel | $1,480,829 | 5.75% | $25,750,000 |
| Burvale Hotel | $1,119,099 | 4.90% | $22,840,000 |
| Club Hotel | $608,434 | 5.11% | $11,910,000 |
| Cramers Hotel | $987,868 | 5.37% | $18,400,000 |
| Deer Park Hotel | $831,950 | 5.37% | $15,500,000 |
| Doncaster Inn Hotel | $1,313,745 | 5.31% | $24,750,000 |
| Ferntree Gully Hotel & Motel | $494,868 | 5.60% | $8,840,000 |
| Gateway Hotel | $406,954 | 5.02% | $8,100,000 |
| Keysborough Hotel | $1,042,323 | 4.53% | $23,000,000 |
| Mac's Hotel | $795,108 | 5.48% | $14,500,000 |
| Meadow Inn Hotel | $937,340 | 5.36% | $17,500,000 |
| Mitcham Hotel | $959,274 | 5.31% | $18,070,000 |
| Morwell Hotel | $154,134 | 6.17% | $2,500,000 |
| Olinda Creek Hotel | $461,598 | 5.29% | $8,730,000 |
| Pier Hotel/21st Century | $895,140 | 5.45% | $16,430,000 |
| Plough Hotel | $984,795 | 5.84% | $16,860,000 |
| Prince Mark Hotel | $1,093,316 | 5.11% | $21,410,000 |
| Royal Exchange Hotel | $286,074 | 5.61% | $5,100,000 |
| Sandbelt Hotel | $1,249,649 | 5.22% | $23,960,000 |
| Sandown Park Hotel | $680,907 | 5.04% | $13,500,000 |
| Sandringham Hotel | $541,994 | 4.33% | $12,520,000 |
| Somerville Hotel | $328,791 | 4.64% | $7,080,000 |
| Stamford Inn Hotel | $1,380,560 | 4.88% | $28,290,000 |
| Sylvania Hotel | $641,434 | 5.05% | $12,690,000 |
| The Vale Hotel | $622,419 | 4.67% | $13,330,000 |
| Tudor Inn Hotel | $629,636 | 5.05% | $12,460,000 |
| Village Green Hotel | $1,312,880 | 5.15% | $25,500,000 |
| Young & Jacksons Hotel | $572,325 | 3.54% | $16,160,000 |
| SUB TOTAL | $26,935,888 | 5.16% | $521,520,000 |
Western Australia
Properties
1Net Rent
Yield
Value
Queens Tavern
$541,384
5.41%
$10,000,000
Sail & Anchor Pub Brewery
$270,488
5.98%
$4,520,000
Brass Monkey
$577,669
6.11%
$9,450,000
Balmoral
$475,287
6.51%
$7,300,000
SUB TOTAL
$1,864,828
5.96%
$31,270,000
GRAND TOTAL
$55,543,278
5.14% YIELD
TOTAL VALUE $1,080,160,000