Melbourne's marquis pub team has resumed the original title and engineered balanced modernity at the former Charles Weston, providing Brunswick its revised Sporting Club Hotel.
Built 1896, the building is in the Arts and Crafts style, its façade embossed with the year of its construction and original moniker. For some time it has been known as the Charles Weston, in reference to the corner of Charles and Weston streets where it sits.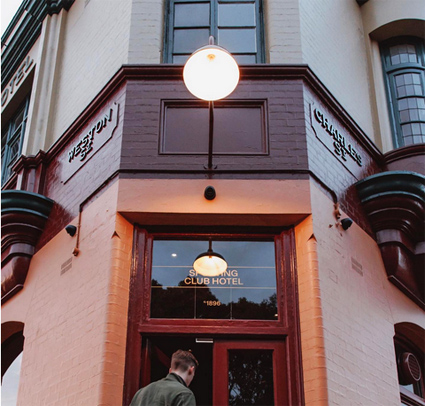 It has now returned to its title of the Sporting Club Hotel, but despite the implication, it will not be a 'sports bar' – instead hoping to become a place that is "welcoming to everyone".
Able to hold 450-pax, throughout the classic 19th century rabbit warren of rooms, much of the changes have been about adding by removing unwanted prior additions to reveal original features, in a renovation aiming to be sympathetic to the building and the area, as well as pub tradition.
The new owners say they have retained existing elements that "have charm and character and history" in a design by Ineke Hutter's Studio Co & Co.
There is now a classic wrap-around horseshoe bar, amidst moody lighting, custom wall features, timber panelling and bold patterned carpet. A cosy bar at the rear offers one of four fireplaces, and the spacious beer garden sports a retractable awning and welcome policy for furry friends.
Diners can enjoy one of the two dining rooms and a menu by chefs Scott Stevenson and Cian Fenaughty.
The menu echoes the tradition theming, walking the line of stylish retro, serving up the likes of prawn cocktail-inspired rolls and baked Pacific oysters, three-tier club sandwiches, a cauliflower Kiev for vegans, and bread and butter pudding.
A taste of the success at the Marquis of Lorne has joined the Club in the form of its highly popular rockling (fish) burger.
Diving into a precinct with a long history of reinvented venues of varying success, the Sporting Club is a product of the creators of the Royal Oak Hotel in Fitzroy North, relaunched in 2022, and Fitzroy's famed Marquis of Lorne, hoteliers Will Benjamin, Cal Hitchens, Ryan Crick, Ollie Smith and Guy Wells.
Benjamin says that beyond aiming to meet the basic expectations of cold Carlton and hot schnitzels, they stay focused on the proverbial "pub DNA" and aim squarely for the sweet spot between making the venue interesting and contemporary while embracing that which is "timeless and traditional" in a pub.
PubTIC was unable to make contact with Benjamin prior to publication.
27 Weston Street, Brunswick