Feros Group is breathing new life into The Shire, with no less than three new venues about to open, plus work just begun on an all-new pub.
Already specialising in booming food establishments such as the award-winning Terrey Hills Tavern, Chris Feros is launching top-notch nosh houses specifically intended to be on par with "the kind of venues you get in the city".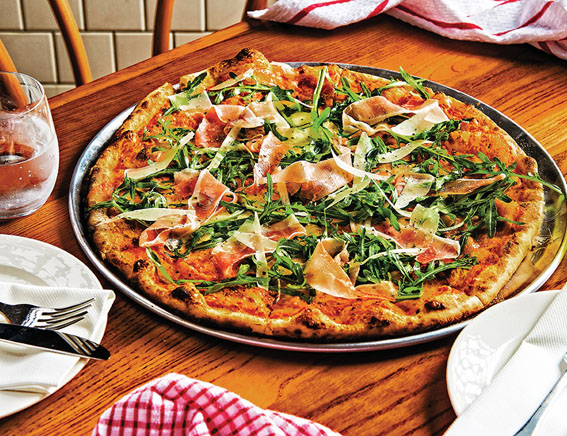 On 19 December the doors will open to Ugly Pizza, in Caringbah, serving big, hand-tossed New York-style and gourmet pizzas.
And in homage to a prohibition era speakeasy, those in the know can pass through Ugly Pizza and the cool room disguised entrance to Huxley's – an American-style sports bar and diner.
Speaking with PubTIC, Feros says he is so excited about the direction they are taking.
"We're going to have a pub with a secret entrance, and delivery pizza – how cool is that!
"Food is definitely the future for our pubs, and we couldn't be happier about it."
Not content with just the two new venues, Feros is also opening next month a dine-in and take-away bar-restaurant at Cronulla to be called Gerrale St Kitchen, inspired largely by Los Angeles' Gjelina. It will offer early breakfast, great coffee, share plates, fresh seafood and "the kind of food you want to cook at home but don't have time".
As if that wasn't enough, today also sees shovels hit the dirt for a brand new pub at Kirrawee, to be called The Prince. The large, family-focused pub is slated for opening late 2016.
All the new venues are design creations of Humphrey & Edwards Architects, who brought Sydney hospitality the exquisite Chiswick and Opera Bar.
The Feros Group virtually oozes love for its venues' communities, supporting local Nippers groups and shaping venues to optimise local engagement and interests.
The names Huxley's and Ugly Pizza are a nod to Shire heritage; Tom Huxley was a local pioneer, whose name was difficult for the native Aborigines of the area to pronounce – morphing it to Tom Ugly. (Hence local landmarks Tom Ugly's Point and Bridge.)
The clandestine Huxley's will sport no signage, keying into an 'in the know' mentality so successful in places such as Baxter's Inn. Feros says the styling will be "classy, but not refined" – with black and white checker floor tiles, timber panelling and Chesterfield-style booth seating.
Plans for the second and third level have not been fully revealed, but are tipped to see a rooftop wine bar and complementary pub space.
Predominantly a sports bar, Huxley's will offer a selection of Ugly Pizzas as well as its own diner-inspired menu of wings and burgers and "deliciously deep-fried stuff" – says Feros.
Pizza diners can order the 13-inch 'large' or 18-inch 'really large' eat in, take-away or home delivery, or a two-handed foldable slice of a 24-inch.
Despite Council authority to trade until 3am Friday and Saturday, Feros says they made the decision to shut at midnight after ongoing consultation with local police.
"It is an inherent part of our business model to work closely with police, and we find they become some of our best supporters," advised Feros.