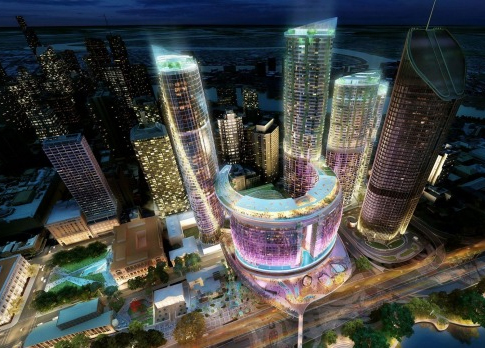 Echo Entertainment has emerged the winner in the battle for Brisbane's multi-billion dollar new casino and resort development.
Queensland Premier Annastacia Palaszczuk announced Monday that Cabinet had signed off on the project, following a decision on a resort-style complex to rival anything in Australia and Asia.
"The independent panel went through a number of criteria … and we'll be going through this in more detail [Tuesday], but one of the signature efforts was this large amount of public space that families will be able to enjoy," said Palaszczuk.
Echo's plan will begin construction in 2017 and will take around six years, encompassing ten blocks adjacent to the river. It will feature five new hotels, including three rated six-star, an underground shopping mall, Lyric Theatre at South Bank with a bridge across to it, and a total of "12 football fields" of public space.
The new construction will transform the existing casino, Treasury, already operated by Echo, into a boutique department store and hotel. Significantly, the win by Echo will mean one larger casino entity, rather than Treasury competing with the new complex.
The former Newman Government put the project to tender with the casino licences offered as the carrot to developers to create something that would transform the city. Construction will create three thousand jobs and once complete it will employ a further eight thousand.
"This project will be transformational for Brisbane," said State Development Minister, Anthony Lynham. "It will do what South Bank did for Brisbane 30 years ago."
The Echo consortium includes the Hong Kong-based Far East, and China's Chow Tai Fook.
Echo operates Sydney's Star Casino, but lost the bid for Barangaroo in Sydney to James Packer's Crown consortium.
Reversing fortune, it beat Crown's bid for Brisbane, which was reported to offer public gardens, a waterfall and a rooftop bar the size of the Gabba cricket stadium.