The drought has broken in Victoria, as the sleepy town of Woomelang celebrates the quiet yet triumphant return of its only pub.
In 2014, Graham and Lisa Shore embarked from Brisbane on a long-awaited caravan expedition around Australia scheduled for around three months that stretched into twelve.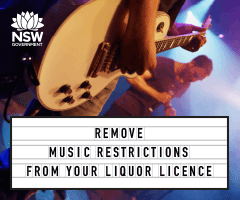 Eager to see the wide brown land, the couple also had the goal of finding a stagnant country pub to reinvigorate and run and call their own, trading on Graham's diploma of hotel management and time spent working in and running pubs in WA until his early 20s.
Meanwhile, Woomelang's Commercial Hotel in the Victorian Mallee region had closed at the end of 2013, leaving residents and the surrounding catchment without a watering hole and public meeting place. Adding to its woes, the Mallee Football League was disbanded in 2015.
Having traversed most of the country and finding themselves in regional Victoria, the Shores made approaches on the vacant pub and soon owned it outright, taking possession October 2015.
After a comprehensive make-over that sees the old structure sporting a new bar and commercial kitchen and revitalised areas such as the old Lounge, the renamed Woomelang Hotel was almost ready to open.
Graham had purchased stock and gotten as far as trying can arrangements in the fridges when progress caught the attention of locals.
"I think they saw the cans and thought we were open," Shore explained to PubTIC. "I had been asked if the pub could host a wake, and the day we were due to open, the day of the funeral, they asked again and I said we would do it."
A few dozen locals were commemorating the life of Woomelang resident Bill Gale, and leapt at the opportunity to raise a glass at the long-lost pub.
"I spent the first hour and a half stocking the fridges – they were certainly glad to have their pub back.
"There's still lot to do, but the main food & beverage business is up and running. We've still not got the accommodation going, but we're working on it."
What was expected to take around six months has taken 21 months, with Graham and Lisa doing almost everything themselves – as much as a labour of love as in order to make the young business viable. (continues)
Around 350 kilometres north-west of Melbourne, Woomelang is a town of just two hundred residents, and a stop on route B220 heading to Mildura. The only pub in nearby Sea Lake, a popular tourist stop, also closed – just three days before the Woomelang reopened.
Graham left the hotel business to get employment in mining to support his young family. Now the kids have grown and flown he says he's excited to be back in an industry he loves – but didn't want to rush in and get off to a shaky start.
"We deliberately opened quietly, as I didn't want to get flooded. A lot of people have very fond memories of the place, and would want to come and see it. It's a nice community. A lot of people from the surrounding area support us well.
"Once we get settled in, get all the nuts and bolts in order, we might have a bit of a grand opening."
The Shores are currently seeking a chef to come and take on the new kitchen and menu. In the meantime, Graham is spending most of his time in the kitchen, now open Tuesday to Sunday for dinner and Wednesday to Sunday for lunch.