The De Bortoli and 3AW 'Pub of the Year' has just been announced for 2016, adding Fitzroy's Town Hall Hotel to a long and distinguished list.
Iconic family-owned Australian wine brand De Bortoli has put its name to the pub award for a generation. Responding to questions as to why it has steadfastly maintained this allegiance, De Bortoli Wines national sales manager Vince Gurciullo says it's how it should be.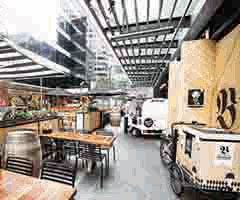 "De Bortoli Wines has been proudly sponsoring radio 3AW's 'Pub of the Week' segment for 25 years, as it aligns perfectly with the De Bortoli family's belief that good wine and good food shared with good friends and family should be part of everyday life.
"It's a great opportunity to recognise pubs that offer the wine, beer, food and ambience that match this, while helping to raise our profile in the pub scene."
The ongoing Pub of the Week mentions culminate each year in the Pub of the Year announcement by 3AW's buoyant hospitality critic, Tony Leonard.
The final three for the year were disclosed as the Prince Albert in Williamstown, Woodlands in Coburg, and the Town Hall in Fitzroy.
While Leonard had much nice to say about the Prince and Woodlands, it was the Town Hall that won out with an impressive hard-earned 17.5 out of 20 in both its reviews.
Leonard noted the excellent standard of both levels of pricing in dining, in both the bar and restaurant. The uplift in foodservice is not surprising, given the Town Hall was purchased by celebrity chef Sean Donovan in August last year.
"Above all, this is not a restaurant in a pub, although the food could easily pass for such," commented Leonard.
"It is a genuine local, with a local's heart and Sean Donovan is the equal of any cook in a pub in my time of talking pubs."

The De Bortoli 3AW Pub of the Year Honour Role
2016   Fitzroy Town Hall                                 Fitzroy
2015   Tinamba                                                 Tinamba
2014   Plough                                                     Trentham
2013   Royal                                                        Clifton Hill
2012   Wayside Inn                                          Sth Melbourne
2011    Lincoln Hotel                                       Carlton
2010    Terminus Hotel                                   Clifton Hill
2009    Grand Hotel                                         Richmond
2008    Station/Carringbush                         Footscray/Abbotsford
2007    Bouzy Rouge                                        Richmond
2006    The Albion                                            Port Melbourne
2005    Metropolitan/Brandon Hotel        Nth Melbourne/Carlton
2004    The Beach Hotel                                 Albert Park
2003    Court House Hotel                             North Melbourne
2002    London Tavern                                    Richmond
2001    Doyle's/Vine                                        Mentone/Abbotsford
2000   Royal Park                                             North Melbourne
1999    Emerald                                                 Sth Melbourne
1998    Clare Castle/O'Connells                  Carlton/Sth Melbourne
1997    Spencer                                                 West Melbourne
1996    All Nations                                            Richmond