Carlton & United Breweries is championing the pub with a national pub tour for lucky patrons, aboard the Carlton Draught custom jet.
The Carlton Draught Pub Plane launched in a high-profile event in Melbourne today, taking guests on an exclusive one hour flight over the capital, in a private jet decked out with Carlton's Brewery Fresh draught beer, celebrities, and the "best chicken parmigiana" in town.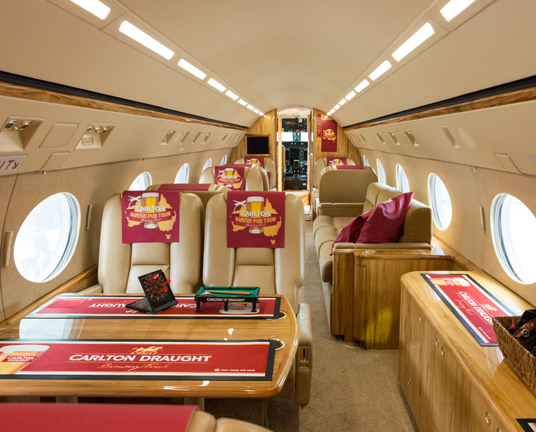 Today previews the "ultimate Aussie Pub Tour" in March 2016, starting in Melbourne, and visiting Adelaide, Perth, the Gold Coast and Sydney. It will chauffeur more than 150 winners of a national competition for patrons that purchase two Carlton Draughts in a pub, which is now underway.
The Pub Tour will take place over seven days, and visit some of the most iconic pubs in Australia, with involvement by sporting legends in each of the five cities.
The recent IBIS World Industry report on Australian Pubs, Bars & Nightclubs (Sep, 2015) predicts foodservice-based venues will underpin growth in licensed venues over the next five years.
Carlton Draught retains the title of the top-selling draught beer in the country, and says the big-budget promotion is "to celebrate a recent uptrend in pub patronage across the country, the growth in gourmet pub culture and a common trend by publicans – who need to adjust with the changing consumer, which demands more family-friendly establishments and high-quality food and beverage".
Carlton & United Breweries head of classic brands, Richard Scott, believes the Tour will be a strong reinforcement of the role of the pub.
"Carlton Draught has been the beer of the pub for 150 years, and remains the number one tap beer in Australia today.
"The Carlton Draught team passionately believe that the pub plays an important role in Australian culture, and this pub tour is our way of celebrating the very best of pubs."
More information is available at www.carltondraught.com.au