The historic Camden Valley Inn has reopened after a major ten-month renovation, ushering in a new era for the heritage-listed former milk bar.
The Inn on the corner of the Old Hume Highway through Camden, around 70 kilometres south-west of the Sydney CBD, was built in 1939 by the Macarthur family as the Camden Vale Milk Bar, being a place to sell their milk and cream.
In 1989 it was granted a tavern licence and has become an immensely popular landmark of the Camden community.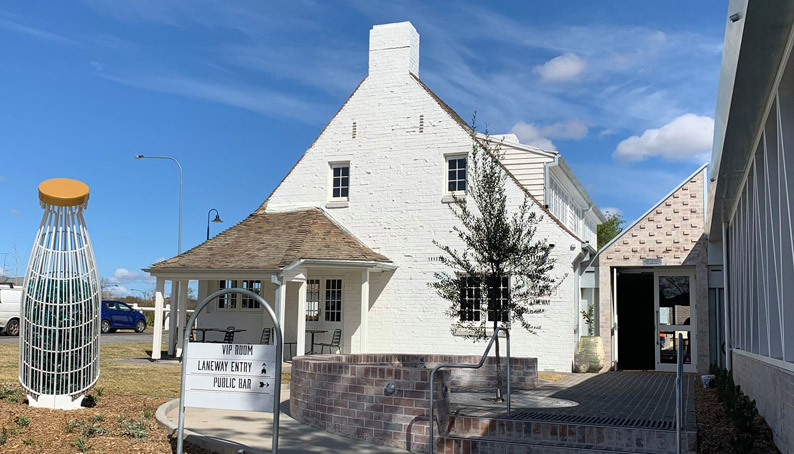 Last November, owners Lewis Land Group (LLG) threw a 'closing for renovations' party, incorporating a garage sale, flogging furniture, kitchenware and memorabilia from throughout its history. The event drew hundreds of devotees, eager to snatch a piece of history.
LLG, a generational private developer, embraces a vision of benefitting communities through developments that embrace the natural environment and enhance the way people live, work and play.
The Camden Valley Inn is set on around five acres. While upgrading and restoring the heritage components of the pub, the expanded venue now offers multiple bars, a brand new dining area, a cafe, a pizzeria, accommodation, tab and gaming facilities, a brand new beer garden, covered terrace, and both private and semi-private function spaces.
All works have been shaped around existing old trees on the site that attracted fierce protection.
The additional facilities allow the Inn to accommodate weddings, corporate conferences, fundraisers, ceremonies and other special events.
Recruitment for new staff continues, LLG aiming to employ locals and further boost the economy of the Camden region.
Wanting to be the "one stop shop" for hospitality and entertainment for the region, general manager Kayla Kyling says it's been exciting to see what will be a new era take shape.
"We've been watching the transformation from start to finish, and while there are several new modernised elements to the venue, we have no doubt it still has its rich, historic and community feel. The revamped amenities still have its history intact, reminiscent of the original Camden Vale Milk Bar, but with a new modern flair."