Inspired by hedonistic hippies and the changing face of Kings Cross, Boogie Mountain will open Friday above the Potts Point Hotel for all your listening and dancing pleasure.
Leading the metamorphosis from bawdy gin-joints to gentrified brasseries in the former red light precinct, the multi-level Potts Point Hotel (PPH) has created a space to samba to retro, sipping an old-style cocktail.
The PPH – formerly the Sugarmill – reopened early 2017 to the changing demographics and opportunities of Kings Cross and Potts Point. While the rooftop bar Sweethearts continues to see strong trade, the former Kit & Kaboodle nightclub on levels two and three did not reopen.
Enter Boogie Mountain, named in a nod to cults of the Arizona desert. As the infamous precinct reinvents in the wake of the lockout, PPH director John Duncan says they're aiming for the new coalface.
"The time is right to start something new," says Duncs. "We are very excited to give the space a new lease on life, with Boogie Mountain adding a great new option to Sydney's late-night scene."
Up flights of stairs beside the street level Hotel, Boogie Mountain greets patrons with mirrors and neon and bold red velvet booths, beneath the sounds of the likes of Talking Heads and Iggy Pop, and 'Vinyl-Only' on Thursday nights, with all-you-can-eat poutine.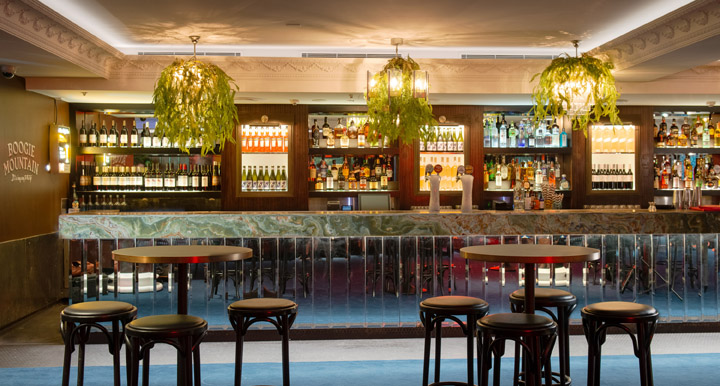 Classic cocktails like the Alabama Slammer and Sex on the Beach front a drinks list that includes all Australian wines, and magnums of rosé.
The menu will champion share plates and "playful" meals, from decadent lobster poutine to arancini-style 'Disco Balls', and later in the evening the Midnight Snack menu kicks in, offering cheeseburgers, fries and apple pies delivered to your table.
"We wanted to create a space that celebrated what Sydney was always about," says designer Byron Georgouras. "A youthful loss of innocence, a sense of adventure, simple pleasures and free spirit."
A warm-up soft launch tomorrow night will saunter into doors swinging open to the public on Friday (20 April).
Holding its own identity, separate to PPH, Boogie Mountain will be open Thursday to Saturday, with a Sydney-special 2am lockout, and 3:30 lock-in, and Duncan says it will be worth the climb.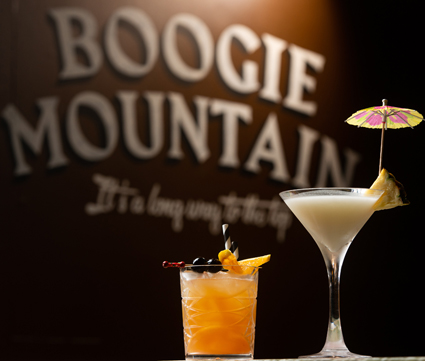 "You walk up a mountain of stairs, when you get there what are you going to do?"