After languishing for three years, a Ballarat pub has now reopened under the artful curation of Yuge and David Bromley.
The imposing Victorian brick building on the corner of Mair and Doveton Streets was originally known as the Royal Highlander, before being sold in 1960 and rebranded the Peter Lalor Hotel, which closed early 2015.
In February 2017 artists Yuge and David Bromley bought the building, and incorporating their flair for creating intriguing spaces, have partnered with hospitality operators Iain Gunn and chef Donatello Pietrantuono for a new concept for Ballarat.
Soon after beginning the project, removing the exterior Peter Lalor signage revealed the original moniker, giving rise to the new tag of the Pub With Two Names (PWTN).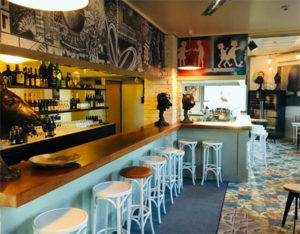 "When we were first introduced to the building that now houses the Pub With Two Names, we knew it was a project we wanted to take on," explains Yuge.
"We took our time in making sure we collaborated with the right people with the relevant experience in pubs and hospitality. In our case, with Donatello and Iain, their combined skills in bringing an exceptional dining and imbibing experience, coupled with our skills in bringing an enticing and seductive backdrop, we feel was a perfect match."
The Bromleys have no prior experience operating pubs and will leave that to Gunn, Pietrantuono, and his partner Irene Beghini, PWTN events manager. Gunn and Pietrantuono also operate authentic Italian Ballarat restaurant Carboni Italian Kitchen, and a catering company.
The site also boasts a former stables, separate to the main building, which has been restored and repurposed as an events space for 120-pax, with its own kitchen and bar. The walls have been adorned with murals by David Bromley.
The Stables will open for business mid-May, catering to weddings, corporate functions and all manner of occasions.
The Bromleys plan to make regulars of their eclectic circle of friends and foretell impromptu gigs, but as firm believers in the synergistic results of letting people work to their strengths, Yuge says they appreciate the in-place workings of the Pub.
"We feel that the pub, now that it's open and operating, has a real element of energy that we ourselves could not bring, and could not have single-handedly achieved.
"It's been a joy seeing a space we have become so intimately familiar with, come to life and be shared with guests. The energy and buzz in the air is infectious, and the response so far has surpassed even our expectations – and we have high ones."