The Bayfields are up to their old tricks, hosting a big charity lunch at their beloved Belrose Hotel in continued support of the Children's Cancer Institute.
The family-run Bayfield Hotels has a long history of supporting the Children's Cancer Institute of Australia (CCI), since CEO Wayne Bayfield was first introduced to the charity in 2000, pledging a role as benefactor.
The 2019 instalment of the annual Bayfield Liquor Industry Charity Luncheon took place last week at the Belrose, which the group reacquired from Redcape mid-2018.
Hosted by Wayne and Kaine Bayfield, guests included long-standing local partners that hold shared affection for the charity.
CCI is the only independent medical research institute in Australia wholly dedicated to childhood cancer – now in its third decade. 
The Institute's Professor Michelle Haber was keynote speaker, explaining the newly-trialled, ground-breaking 'Experimental Therapeutics Program', developed to achieve more effective targeted treatment for one of the most common forms of childhood cancer, Neuroblastoma.  
Guests saw a video of real-life heroes, fighters and survivors, and Bec, a teenager facing a rare form of terminal cancer, spoke with quiet dignity about her struggle with the diagnosis.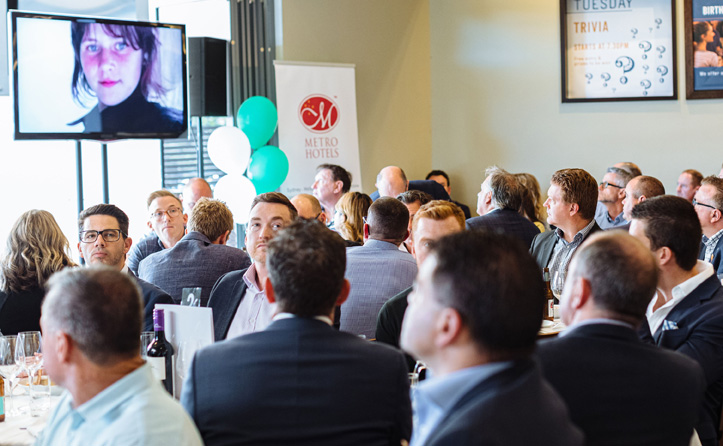 The subsequent auction saw a diverse array of donated items, including media packages, Vintec wine fridges, holidays, and a private stash of Penfolds Grange, and guests were encouraged to dig deep.
A record total of $214,656 was raised on the day. This brings the total funds raised for the charity by the group to date to $3,088,811.
"We quickly identified a shortfall between what the government funds in terms of monetary support and what the CCI requires in order to effectively contribute to the life-saving work they provide to children and families in need," says Wayne Bayfield.
"It is an honour to support our charities and local communities wherever we can, and this is one we are very passionate about.
"Our hope is that all childhood cancers will one day be a thing of the past. With continued support and funding, it's not a case of if … it's just a matter of WHEN."
To make a donation to the Children's Cancer Institute Australia please visit ccia.org.au.