The Balmain Pub Group has relaunched North Sydney's Greenwood Hotel, as owner Nick Wills returns to his roots.
Following a quiet acquisition of the Hotel late last year, BPG traded through the Christmas period before undertaking stage one of a make-over for the historic venue.
Originally built in 1892 as a church and l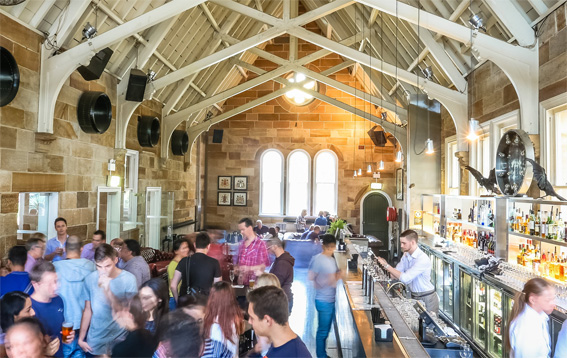 ater operating as a school, the grandiose sandstone building and tiled courtyard make for an idyllic atmosphere in the heart of the North Sydney CBD.
"You can't build a pub like this anymore," Wills told PubTIC.
"We can't wait to take it back to what is was – a focal point for the North Shore."
Wills grew up in the area and began working at the hotel when it opened in 1992 while attending Sydney University. He was employed there on and off for the first eight years, under the previous owners – from whom he just bought it.
"For stage one, we put a lot of money into the fundamentals, such as the refrigeration, lighting and furniture, and we're now re-open for business.
"For stage two we intend to bring back a restaurant, along the lines of what we know and have done at the Riverview and Balmain Hotel."
The area is well serviced for food offerings, and the plan is to offer diverse and multiple food offerings to compete with the food court below in the plaza.
Wills recalled when the pub opened, and the minimal staff being slammed on the first Friday night. Staff was tripled for the following weekend, and throughout the 90s 'The Greenwood' became one of the go-to venues north of the Harbour Bridge.
Wills' Balmain Pub Group also operates the Charing Cross in Waverley, the Swanson Hotel in Erskineville, and both the Riverview and Balmain Hotels in Balmain. He remained allusive on news of further acquisitions in the pipeline.
"I want to focus on getting this right, and look at other opportunities as they come up."
North Sydney is one of the many areas in Sydney that enjoys continued reductions in rates of anti-social behaviour, as recognised by the OLGR.