Anzac Day – our national day of remembrance – is nigh. And as always, pubs are gearing up to honour on 25 April, their association with the mateship that embodies the fallen Anzacs.
There are few locations more connected with Australia's history than The Rocks. Standing should-to-shoulder on Cumberland Street, Marty Short's the Australian Heritage and Glenmore Rooftop Hotels take the opportunity to team up and create an all-day Anzac event deserving of their ancestry.
The Dawn Service in Sydney begins at 4:30am at The Cenotaph in Martin Place, incorporating a catafalque (coffin bearer) contingent, an Ode of Remembrance, Last Post bugle call, a minute's silence, a Reveille played on a bugle, and the laying of wreaths.
The Australian Heritage Hotel welcomes veterans, family and friends from 6am for breakfast. There will be a special performance by the Scots Marching Band in Cumberland Street.
The Glenmore will open from 8am, and the twin pubs team up to turn Gloucester Street into a major 2-up arena that draws big crowds.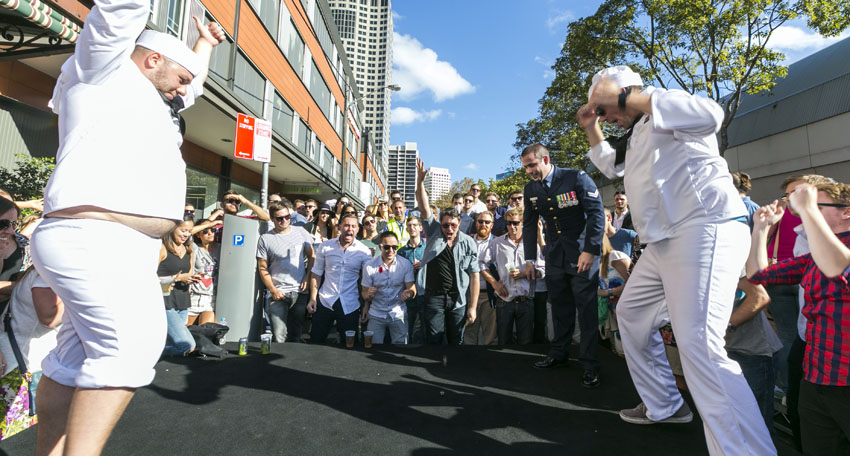 "Every year, we open the doors early for breakfast in memory of our diggers," Lincoln Baker GM at The Australian Heritage told PubTIC.
The Rocks' attraction sees people from around the country and world tune-in to the Anzac Day celebrations, and Baker says the busy day will start early for the two pubs.
"There's plenty of patronage around The Rocks during the early hours of the morning, with people coming into town for the dawn service, either by public transport or walking over the Harbour Bridge.
"It can be a long morning, so the Aussie is a great place to take a rest and refresh before the daytime commemorative activities begin."
Commemorating Anzac Day without having a beer would almost not be possible for some, and the Good Beer Co is eager to ensure no-one's day is ruined on that account.
Randwick's The DOG and the Keg & Brew in Surry Hills will be exclusively serving a special-edition 2-Up Pale Ale, by Albatross Brewing, with 10 per cent of profits going to Young Veterans – an organization that encourages veterans under 60 into the RSL fraternity.
The DOG will be hosting 2-Up sessions from midday until sundown, joined by radio personality Ben Malouf, of 2GB's Food & Wine Show, which is sponsored by The DOG.
The pub will be serving the commemorative 2-Up brew, made from Australian and New Zealand ingredients, as well as Anzac Day-inspired dishes, such as the All Aussie Burger, Outback Aussie Parma, and Happy Little Vegemite pie.
This will be the second Anzac Day for the DOG since Good Beer Co relaunched it. To further engagement, the pub is offering a prize of a $200 dinner voucher to someone registering for the event on its website prior to the day.