Industry groups have come out in support of findings in the latest National Drug Strategy Household Survey that show the continued downward trend of underage and risky drinking.
The Australian Institute of Health and Welfare (AIHW) produces the National Drug Strategy Household Survey every 2-3 years.
Highlights of the 2016 report released today indicate that the rate of drinking by Australians continues to fall, with the vast majority reporting consumption that lies within the recommended Government health guidelines.
Furthermore, continued educational campaigns have seen further sharp declines in underage drinking. The average age teenagers try their first drink has risen to 16.1 years, up from 15.0 in 2007, and 82 per cent of 12-17-year-olds report complete abstinence from drinking – up from 56 per cent in 2007.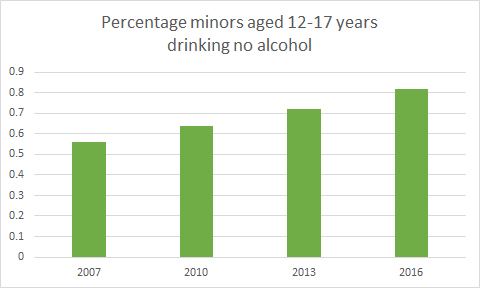 DrinkWise CEO John Scott believes these ongoing positive trends validate work undertaken by the social change organisation since 2007.
"The effect of our award-winning Kids Absorb Your Drinking and Kids and Alcohol Don't Mix campaigns are certainly at play in the dramatic decrease in underage drinking rates."
The Brewers Association of Australia and New Zealand was similarly buoyant, particularly regarding the decrease in underage drinking.
"The Survey reveals that the proportion of [underage] teenagers drinking alcohol has fallen dramatically since the last survey – down from 28% to 18% in just three years. That's an impressive 82% of our young people putting off having a drink at least until they are of legal age."
Pub king Arthur Laundy confirmed he is also glad to hear of the decrease in underage drinking, having recently spoken to PubTIC about the Strike his Hotel Steyne incurred when caught serving underage girls on a busy Saturday afternoon.
"They know they're not welcome. If they still insist, there should be a penalty," says Laundy.
"If Government is serious about stopping underage, they should get serious about penalising people who know they're committing wrong."
The AIHW report also showed fewer Australians in general are drinking in quantities beyond lifetime risk guidelines – down to 17.1 per cent, from 18.2 per cent last report.
And fewer people report being a victim in an alcohol-related incident – down to 22 per cent from 26 per cent in 2013.
But the bracket of people in their 50s slipped somewhat, showing an increase in occasions were 11 or more standard drinks were consumed.