The 2017 list of the world's top alcohol brands is out, and the big news is the meteoric rise of the incumbent biggest beer and spirit brands.
London-based global business valuation and strategy consultancy Brand Finance has released its latest list of the top beer and spirits beverages, by brand value.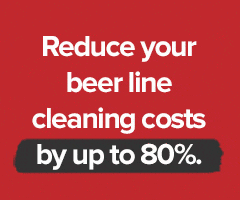 Amid the revolution in 'craft' beer and flagging mainstream beer sales, Budweiser has not only maintained its hold on positions #1 and #2, but grown the top-selling beer in the world – Bud Light – an impressive 34 per cent and its flagship beer 30 per cent, in the past year.
Dutch giant Heineken similarly held onto #3 position, and grew its total worth by 21 per cent.
The other big beer movers were Brazil's Brahma, growing 24 per cent and climbing two positions (to #4), Mexico's Corona jumping three places (to #7) and growing 21 per cent, and Miller Lite entering the Top 10 after 20 per cent growth.
But the spirits brands enjoyed even more radical change, led by China's Moutai extending its already hefty lead in the #1 position with a staggering 60 per cent further growth.
Similarly, China's Yanghe climbed one position (to #3) with 50 per cent growth, and Luzhou Laojiao reached #6 and Wullangye #9 with sales increases of 73 and 86 per cent (respectively).
Former #1 Johnnie Walker maintained its #2 spot despite falling 2 per cent, but fellow whiskey category Jack Daniel's fared somewhat better, earning #4 after 22 per cent growth.
Brand Finance has dubbed 2017 as "the year of Baijiu* brands" as the fiery Chinese drink now accounts for more brand value than any other spirit type in the Drinks 50. In a reversal of fortunes with whiskey/whisky, baijiu went from 23 to 37.5 per cent of the market in the past year, while the brown liquor went from 37 to 28 per cent market share.
The phenomenal success of Moutai was some surprise, given that in 2012 half of all its sales were to government entities, and the Chinese government's crack-down on excess and gift-giving was expected to negatively impact the company.
"However, the gap has been filled by individual consumers and private enterprise," says the Brand Finance report. "Demand is now stronger than ever, with the price of a bottle recently rising to 1,200 yuan." (around AU$229)
Moutai is reportedly even beginning to expand outside China, celebrating the one-year anniversary of Moutai Day in San Francisco last year, and launching in Germany.
Diageo's segment-leading Johnnie Walker remains the most valuable whiskey/whisky brand by a considerable margin, despite its drop this year.
Brand Finance reports that blended whiskies represent around 75 per cent of the market, although that percentage is declining, putting further pressure on Johnnie to innovate.
*Baijiu is a clear spirit made traditionally from fermented sorghum grain. It is also known as shaojiu, or archaically as sorghum wine. It has been made in China for over 5,000 years and is generally 40-60 per cent ABV.
TOP 10 BEER BRANDS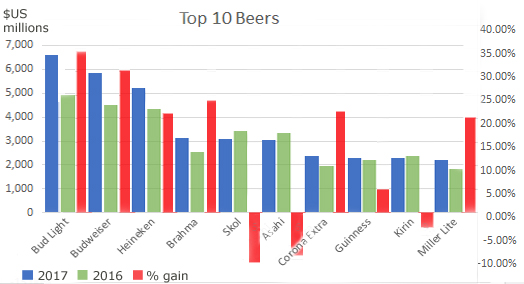 Rank
2017
Rank
2016
Name
Country
Brand $
2017
Brand $
2016
Growth
1
1
Bud Light
USA
6,608
4,922
34.25%
2
2
Budweiser
USA
5,863
4,503
30.20%
3
3
Heineken
Netherlands
5,237
4,326
21.06%
4
6
Brahma
Brazil
3,148
2,543
23.79%
5
4
Skol
Brazil
3,071
3,432
-10.52%
6
5
Asahi
Japan
3,044
3,345
-9.00%
7
10
Corona Extra
Mexico
2,394
1,972
21.40%
8
8
Guinness
UK
2,299
2,195
4.74%
9
7
Kirin
Japan
2,286
2,359
-3.09%
10
11
Miller Lite
USA
2,195
1,826
20.21%
TOP 10 SPIRIT BRANDS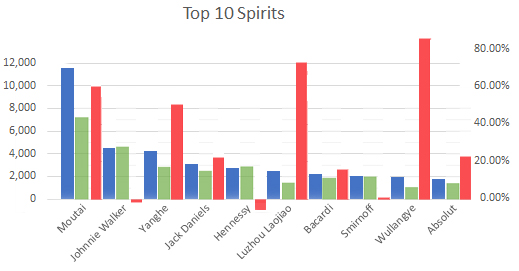 Rank
2017
Rank
2016
Name
Country
Brand $
2017
Brand $
2016
Growth
1
1
Moutai
China
11,548
7,211
60.14%
2
2
Johnnie Walker
UK
4,548
4,630
-1.77%
3
4
Yanghe
China
4,281
2,850
50.21%
4
5
Jack Daniels
USA
3,055
2,504
22.00%
5
3
Hennessy
France
2,711
2,874
-5.67%
6
9
Luzhou Laojiao
China
2,509
1,449
73.15%
7
8
Bacardi
USA
2,185
1,894
15.36%
8
7
Smirnoff
UK
2,033
2,025
0.40%
9
14
Wullangye
China
1,975
1,063
85.79%
10
10
Absolut
France
1,759
1,437
22.41%