Pubs on the apple isle are under attack from all sides, defending from Council encroachment, for not barring patrons, and from axe-wielding bandits.
The Tasmanian Government recently overhauled the State's regulations on licensed premises, and a key outcome was the introduction of laws allowing publicans to ban unruly patrons for up to six months, with police able to similarly issue bans from venues or entire precincts.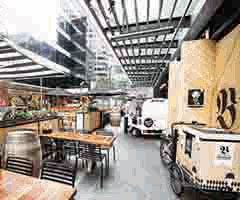 "The government has conducted the most thorough review of liquor licensing laws in decades and last year passed substantial amendments to the laws," noted a spokesman for Treasurer Peter Gutwein. "We believe the laws get the balance right between ensuring people can go out and enjoy themselves without having their experience spoiled by anti-social behaviour.''
To date only two such orders have been issued, both by police, and the Tasmanian branch of the AHA (THA) says that's publicans doing their job.
"I think you will find a lot of the problem is outside the venues,'' said THA deputy GM, Greg Astell. "The majority of venues are safe venues to go to.''
In Hobart's waterfront district of Salamanca, pubs and restaurants are fighting Council over proposals to create two pedestrian pathways outside their venues – either side of their outdoor seating areas.
Officers say it is "best practise" for a public walkway be created between the buildings and outdoor dining areas, with a second walkway on the far side of dining areas, as a preference by people with disabilities.
Hospitality businesses are concerned about the prospect of staff carrying food and drinks traversing a busy pedestrian walkway to reach customers, and ask that their outdoor areas be next to the building, with one wider pathway on the road side.
Waterfront Business Community president Richard Latham told The Mercury he thought the changes would keep patrons away from the area.
"They're talking about having a footpath, then a dining area and then a footpath on the other side and that's just ridiculous.
"If it's too hard for people to go there they won't go. It's all very nice having idealistic views, but you have to have some common sense."
But Council's Infrastructure Committee chairperson Alderman Helen Burnet says the plans complied with disability standards, and warned Salamanca is just the beginning, with further plans to keep building lines free for walkways eventually being rolled out city-wide.
The final decision will be made by the full Council.
On Monday night, north Hobart's popular Waggon and Horses foiled what would have been its second robbery in just two months.
Licensee Brendon Garland's father-in-law Linsday was staying in one of the upstairs rooms and hearing a noise, encountered an axe-wielding burglar trying to penetrate the bar's strong room.
Grainy CCTV caught Lindsay, dressed in just a t-shirt and underpants, enter and startle the intruder, who took flight. He grabbed a bottle of pinot noir and hurled it at the fleeing bandit, but while it missed its target, the $30 bottle of Ninth Island was the only casualty of the encounter.
"You couldn't have picked a cheaper bottle, could you?" joked Garland.
"Last time we got done, Lindsay felt bad because he thought he heard something downstairs but didn't get up. This time he went and had a look."
Acknowledging his father-in-law's personal risk – not to mention the reluctant hero's fearless disregard for humiliation – Garland said he was keen to reward his in-house security.
"I took him out to lunch … KFC – his choice."