A popular pub in Chicago has been slammed for a promotion offering a 'Build-A-Wall' burger stacked with Mexican ingredients, as American politics continue to cause mass division and derision.
While the owner was away for a few days, the chef and marketing team of Durty Nellie's in Palantine, Illinois, thought the promotion – inspired by President Trump's initiation of the infamous wall to keep out Mexicans – would be amusing.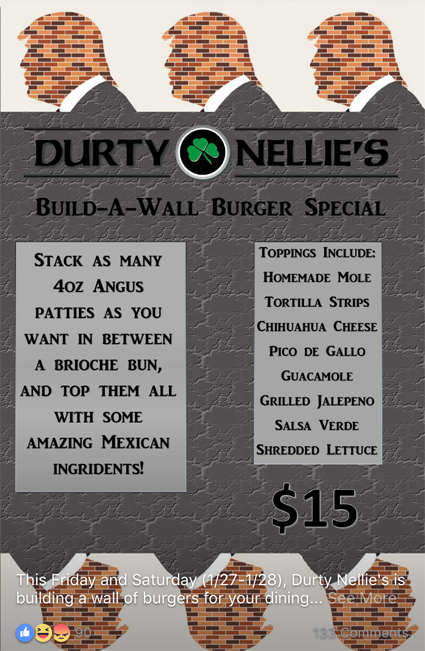 The promotion encouraged diners to stack 4oz angus beef patties on a bun, dressing it with Mexican-style staples such as 'homemade mole' (guacamole).
The swift and widespread backlash has been both proof many did not share the amusement, and a lesson in the perils of engaging with political issues.
The pub's owner, Mark Dolezal, does not endorse the move to build the wall across the USA's southern border, and the post has subsequently been removed. But opinions on the issue have echoed loudly in both directions.
Some comments on the Facebook entry branded the concept as "disgusting" "offensive" and "culturally insensitive", others suggested those who were offended "need to toughen up to the facts".
Conservative group Chi-Town Nationalists, mandating "our focus to making Chicago great again", offered no apology for backing the burger and what it represented.
"Chicago people, please call Durty Nellie's to show your support, as well as give them your business if you can. They are taking some heat and could use our help," the Chi-Towners rallied.
"There's no political statement being made here at all," Dolezal backpedalled for the media, having ordered the controversial burger promotion scrapped.
"Durty Nellie's is extremely sorry for posting something that was so upsetting to so many people," the venue stated in a subsequent post, which has also now been removed. "It was our lame attempt at humor and an attempt to put a little levity in such trying times that severely backfired.
"We will not be supporting such behavior and will leave all attempts at comedy to the professionals in the future."
While the pub itself is famous for its monument to Marion 'Ma' Nugent – mother of rock icon Ted Nugent, who is an avid Trump supporter – Dolezal is not in favour of the controversial and fundamentally flawed plan to construct an enormous wall along the roughly 3,000 mile border between the two countries, estimated to cost in the region of $16bn and already condemned by the Mexican government.
But regardless of his own position, the pub has become a political piñata for famous for something that could haunt it for some time – even though the alluded to wall will likely never happen, and likely long after the fiasco that is the Trump presidency has created a new scandal to dodge.