Old hands Daryl "Quickdraw" MacGraw and master brewer Bruce Peachey have teamed up to create their next big beer with Qbrew – and a little help from budding brewer Arthur Laundy.
Peachey was one of the acclaimed brewers of Lion Nathan, where he first met MacGraw. He became the brains behind the sensation that was Bluetongue Brewery, which he founded along with Newcastle region businessmen Ian Burford, Paul Hannon, Bruce Tyrell and Phi Hele.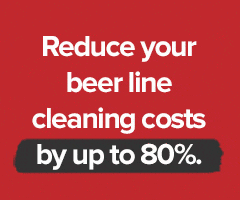 MacGraw was engaged as CEO of the company, following his career with Schweppes and Toohey's/Lion Nathan (now simply Lion).
Bluetongue went from being a small local operation to producing over six million litres annually. In 2008 colourful ad-man John Singleton bought 49 per cent of the business, and in 2008 the company was sold in entirety to Coca-Cola Amatil, and later to Fosters.
Peachey has earned a reputation for skill and innovation, being one of only three Master Brewers in the country, and instrumental in a number of national brands and varietals, such as Australia's first brewed ginger beer.
MacGraw told PubTIC he and Peachey are a natural match for this kind of new venture at this stage in their careers.
"Bruce is one of the best brewers of beer in this country, and although a traditionalist in his methods, he can and will innovate with beers," says Quickdraw.
"Quickdraw is the culmination of Bruce's style of blending tradition and modern brewing … to me he is the best."
Quickdraw is the name the pair have chosen for their first lines, offering a Lager and an on-trend Pale Ale. While they are marketed as "easy-drinking" and come in at 4.5 per cent ABV, he says they are positioned as premium, to differentiate them from the (declining) mainstream beer market.
MacGraw came to know the Laundy family during his distributor days with Schweppes and Lion, due to the hefty Laundy accounts. Arthur Laundy has remained a friend since, and told PubTIC he will be getting MacGraw and Peachey involved with his soon-to-be-built brew-pub at Marsden Park.
"They'll work with us somehow – we haven't finalised the arrangements yet as the brewery isn't even built," said Laundy.
"We're hopeful approval of the DA will come in late January or early February, then it will be on."
Based in the liquid Valhalla that is the Hunter Region, Quickdraw is draught-only and appearing in an increasing number of pubs, including at Laundy's acclaimed taphouse the Quarryman's Hotel.
The fledgling operation is currently gypsy brewed in Sydney under Peachey's watchful eye, but MacGraw says they hope to build their own brewery within a couple of years if success continues.