One of Australia's most remote and history-soaked pubs has reopened, with a new significance and "ground-breaking" ownership.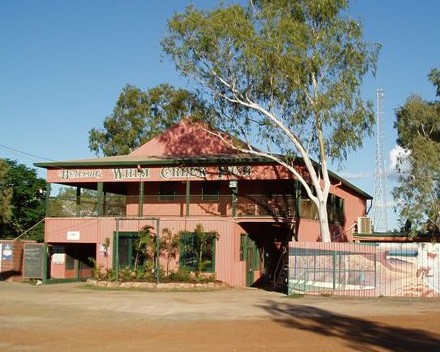 Built in the 1890s, between Roebourne and Port Hedland in WA's Pilbara region, the original Whim Creek Hotel was demolished in a cyclone before its tenth birthday.
Early in the Twentieth Century, a steel frame structure destined to be the Courthouse for nearby Marble Bar was itself stranded by a cyclone, and instead was erected at the current site on the banks of Whim Creek. Since then, the wooden façade has been blown off again twice.
A few years ago it was closed after being purchased by Venturex Reources as part of its acquisition of the neighbouring Whim Creek copper project.
Then in 2014 it was purchased by two local Aboriginal entities – the Ngarluma Yindjibarndi Foundation Limited and the Ngarluma Aboriginal Corporation – and overcoming the ravages of time, the elements and termites, has reopened as an inspiring restoration and community project.
"A massive project, a massive project," Evan Maloney, CEO of the Ngarluma Yindjibarndi Foundation told ABC. "What we tried to do is recreate what it was, not create a new pub.
"The place was riddled with termites, and hidden damages. Once we pulled a wall off, we found asbestos, therefore you've got to get the asbestos people in, so yes drama, after drama, after drama.
"But it's all happening now and it's all open."
Heavily focused on its historical significance, the new owners are adorning the old pub with records and memorabilia of the region.
"It is a museum relic of the past and through our historian we've tried to find and then have published and framed a whole range of historical photographs, which show some pretty amazing sites of the old Pilbara," says Maloney.
The owners seek to use the business as an opportunity to offer training and experience to people from the area and thereby further increase its community significance.
"It's a marvellous opportunity to engage local people into training, into careers, anywhere from labourers, to bartenders, to managers, to event organisers, it's a huge opportunity," said Maloney.
Director of the Ngarluma Yindjibarndi Foundation, Simon Zuvich, said they are very conscious of the responsibility and opportunity.
"It's a new chapter where we want to be responsible providers of alcohol and a safe environment where people can come and drink, and we got that go-ahead from our community that we are in that position to move forward and we're proud of it.
"I don't think there's too many pubs that are owned by Aboriginal corporations in Australia really, so we're breaking new ground," said Zuvich.
While the hotel is now trading and the beer is flowing, the official opening will be held Saturday, 2 May.