Perth icon the Vic Hotel is being offered as a rare freehold going concern, as the local operator and landlord team up and head to market amid surging local activity.
Established 1898, on arterial Hay Street through the west Perth suburb of Subiaco, the two-storey pub is an integral part of the precinct's dining and retail.
Occupying a 1,982sqm site, it offers large bar areas, restaurant and alfresco dining and open kitchen, and function space, plus 54 parking spaces.
It last underwent substantial renovations in the 1980s, operated since by Black Toms and most recently by ALH Group. For the past three years, since expiry of ALH's lease, it has been operated by a local group.
The freehold going concern of the pub has not been on the market for years, amid an ongoing drought of such in Perth in general.
The passive owner and tenant sensed the opportunity in up-and-coming Subiaco, with a sale likely to fetch circa $8 million.  
"With strong investment appetite for quality pub assets in Perth, the freehold owners and tenant have come together to capitalise on buyer demand," explains CBRE's Ryan McGinnity, marketing the asset with colleagues Aaron Desange and Chloe Mason.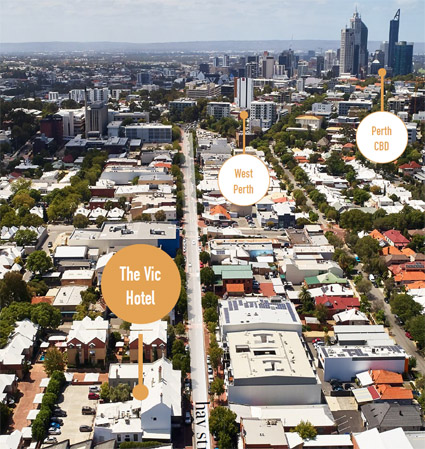 "The Vic Hotel, which has been part of the fabric of Subiaco for more than 120 years and well-known across Perth due to its close association with events at Subiaco Oval, is now ready for repositioning within a new Subiaco."
The suburb is reportedly one of Perth's most significant urban renewal projects, earmarked for a major transformation over coming years, including the rejuvenation of nearby 35.6-Ha known as Subi East.
The population of the City of Subiaco is forecast to grow 19 per cent over the next seven years, drawing investment in the area from both State Government and the private sector, at the Subiaco Pavilion Markets site.
The Vic Hotel FGC is being offered for sale via an Expressions of Interest campaign, closing Wednesday, 17 April.