Kahlua continues its success in hotels with the Espresso Martini on tap, celebrating throughout April with special-price #KahlúaHour cocktails pouring on Friday nights in venues across Australia.
The #KahlúaHour promotion kicked off Friday night, inviting lovers of espresso martinis to band together to lament the dying of the light, as NSW, Victoria and South Australia saw the clocks leave daylight savings time, traditionally marking the end of summer.
Thirty-one venues (listed below) took part in Friday's martini-fest, serving the draught beverage into a branded Kahlúa glass between 6pm and 7pm, for as little as half-price.
The promotion will run on Friday nights through April.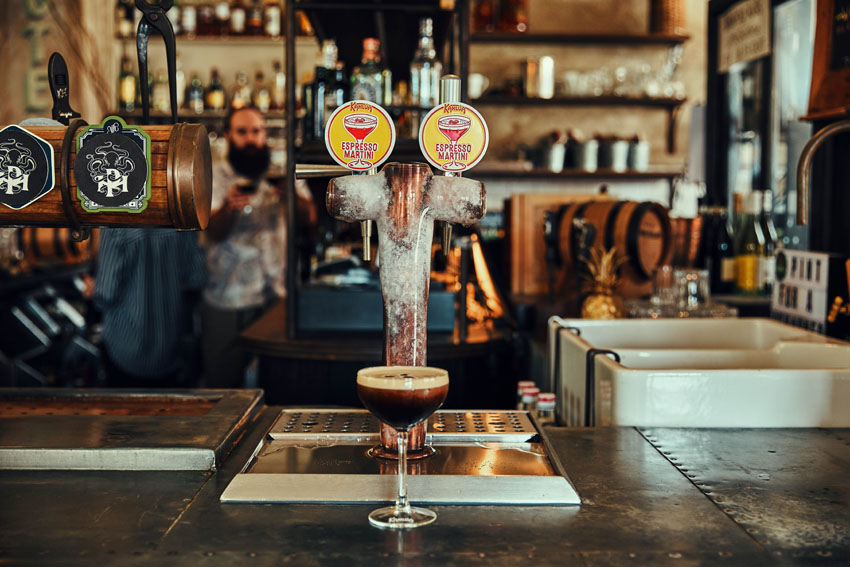 Veteran publican Graham Campion keeps the Espresso Martini taps at both his Commodore Hotel, in the metropolitan North Sydney precinct, and the family's more suburban Longueville Hotel.
He has tried assorted draught cocktails, finding varying success with patrons, and reports popularity continues to rise with Pernod's Espresso Martini, which appeals to the palate of the modern pub-goer, evolving to like more of a cocktail experience than the traditional recipe. 
"It's got that sweet balance to it, where the authentic stuff is quite a lot stronger coffee flavour," suggests Campion. "The Kahlúa adds another level of flavour and finish, so it becomes the Kahlua Espresso Martini.
"It's well received by the customers. It's a very drinkable drink."
The draught product is a first of its kind globally for the brand, using Absolut vodka and Kahlúa coffee liqueur, and adding a local twist with organic cold brew coffee from Australian producer Kind Coffee Co.
Nitrogen is used to drive the liquid, producing a rich velvety crema reminiscent of a Guinness, although taking only five seconds to pour.
"Espresso Martinis are contagious," says Kahlúa national brand ambassador Ben Parton.
"It only takes one person to order an Espresso Martini and suddenly everyone wants one."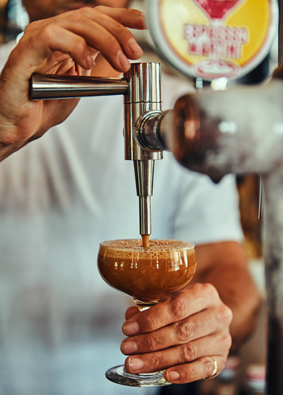 Current #KahlúaHour venues:
• The Endeavour Tap Rooms, Sydney
• Bar Cleveland, Sydney
• Side Bar, Sydney
• The Horse, Sydney
• Harts Pub, Sydney
• Oceans Dining & Drinks, Sydney
• East Village, Sydney
• Drummoyne Sailing Club, Sydney
• Hotel Palisade, Sydney
• Middlebar, Sydney
• Longeuville Hotel, Sydney
• Commodore Hotel, Sydney
• Busby's Bar, Sydney
• Manly Pavilion, Sydney
• Cooper's Hotel, Sydney
• Grand Junction Hotel, Newcastle
• The Family Hotel, Newcastle
• Whitfords Brewing Company, Perth
• Coogee Beach Surf Life Saving Club, Perth
• The Ship Inn, Perth
• Currambine Bar and Bistro, Perth
• The Wembley Hotel, Perth
• Brass Monkey Hotel, Perth
• The Aberdeen Hotel, Perth
• The Queens Tavern, Perth
• Asian Beer Café, Melbourne
• Fathers Office, Melbourne
• Swan Hotel, Melbourne
• The Boatbuilders Yard, Melbourne
• Common Man, Melbourne
• Henry & The Fox, Melbourne
• The Lion Hotel, SA