David Kingston's proposed $96 million development above the Roxy Parramatta has hit a hurdle, with news the heritage council opposes the mix of a 30-storey tower above a Spanish mission-style landmark.
The Roxy was built in 1930, on George Street in Parramatta's CBD. It operated as an ornate cinema under both the Hoyts and Village banners, until its closure in 2003.
Former Rothschild investment bank director Kingston purchased the site and converted it into a pub with live music and restaurants, before closing it in 2014.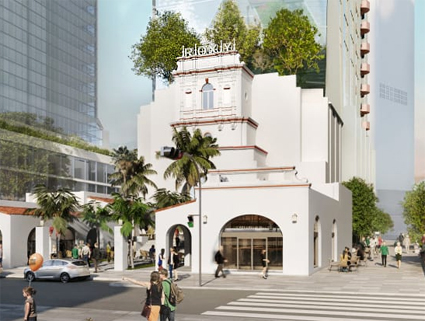 Plans soon emerged for a high-rise development, with assurances the historic theatre's heritage components would be fully refurbished and a 27-storey office tower built on a platform behind and above it.
Pundits have weighed in, such as the Save The Roxy Theatre group, excited by the opportunity to restore a theatre for Parramatta, bringing an alternative to the Riverside Theatre, and opportunity for musicals, opera, ballet and Bollywood performances.
Earlier this year a concept development application was lodged with Parramatta City Council, with plans for an architectural design competition for the structure itself.
The state heritage-listed theatre would become centre of a five-storey "leisure and cultural facility" boasting a 700-seat auditorium, ballroom, function centre, retail and restaurants.
The Heritage Council of NSW is strongly in favour of a "reactivation of the Roxy Theatre" that respects its state heritage significance.
Parramatta has been undergoing a flood of investment and development in recent years, but facing tensions over the conflict between modernisation and the protection of historic elements. Parramatta City Council is now considering the concept DA.
Les Tod (OAM), vice president of the Parramatta branch of the National Trust, has previously called on local Council to acquire the site, potentially swapping it for a Council-owned carpark to the rear.
But the SMH reports a draft recommendation by the Heritage Council, yet to be published, recommends the proposal is turned down altogether, on the basis of "disparity in scale" between the theatre and proposed tower, and the visual impact of the juxtaposition.
The Council's recommendation is believed to limit the tower to 12 storeys.
Kingston is considering challenging the decision in the NSW Land & Environment Court, if adopted by Parramatta Council, suggesting you can't have one without the other.
"Economically the tower and the five-level facility are inter-dependent and I don't believe it is appropriate for an authority to 'cherry pick' just the components they prefer."
He cited that Parramatta's "high-rise precinct" has previously supported developments over heritage buildings.
Alternatively, he says he could renovate and reactivate it as a pub and nightclub, but that any ideas of converting it into a large-format live theatre were "neither practical nor economically viable".