Marty Short's The Glenmore is jumping on the festive wagon, presenting a party for all the non-Christmas people of the world – Festivus, For the Rest of Us!
From the Latin, Festivus, meaning 'jovial' came an alternative to the oft hollow ritual of celebrating the birth of the Christian deity, which is finding itself out of step with an increasing number of people.
The idea was the creation of writer Daniel O'Keefe – father of Dan O'Keefe, who went on to write for the 90s TV series Seinfeld.
In 1997 the show immortalised and mocked the idea (Episode: The Strike, clip below), but it had been taking place for real in the O'Keefe household since the mid-60s.
Festivus is now recognised as celebrated on 23 December, as an alternative to the regular Christmas parties and the commercialisation of the notion of celebrating life and family.
The tradition reportedly begins with the 'airing of grievances' and goes on to include 'feats of strength' and labelling of easily explainable events as "Festivus Miracles!".

The usual festive tinsel and baubles are replaced with … an unadorned aluminium pole!
On Sunday (23 December) W. Short Hotel Group's The Glenmore will rock a pole, and a wall space where guests can "air their grievances" in one of the Seinfeld-themed rooms on the middle level, sporting posters and TVs playing old episodes.
Guests are encouraged to come in fancy dress and there will be a 'best' and 'worst' awarded via Instagram.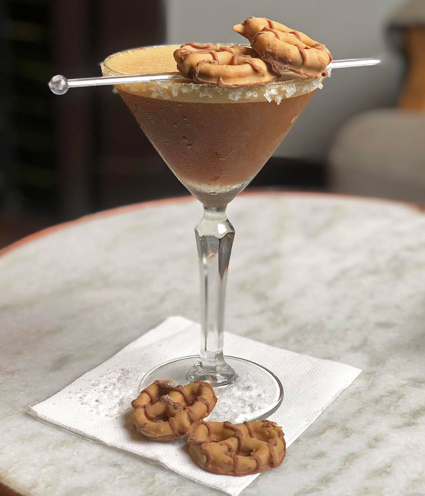 There will be $12 Aperol Spritzes all day, and 'These pretzels are makin' me thirsty' Salted Caramel Espresso Martinis available. The usual Acoustic Sunday session will take place from 3pm on the rooftop.
The promotion was reportedly an idea by the pub's new functions manager, who is something of a Seinfeld fan, and thought not everybody celebrates Xmas but we all need an excuse for another party.
"The Glenmore's Festivus presents the perfect theme for an all-inclusive December Holiday that's fun for all," says Marty Short.
"It's about everyone getting together with friends and loved ones, whether they believe in Christmas or not. It's a chance to have a bit of quirky, old-school fun and celebrate the festive season together."