As the Festive season shackles come off, the world's leading drinks company continues to champion the wisdom of moderation.
Pubs, clubs and bars in Sydney's CBD and parts of Queensland will feature Diageo posters, coasters and digital screens reminding patrons to 'Know Your Standards'.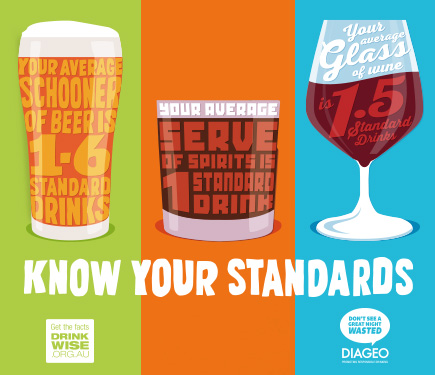 The attractive graphics material, co-branded with DrinkWise, is the latest addition to Diageo's continued commitment to encourage drinkers: Don't See a Great Night Wasted.
The material shows clearly the number of 'standard' drinks in 'standard' serving sizes – such as a schooner of beer or typical glass of wine – to help ensure patrons, particularly young drinkers, are aware of how much alcohol they are actually taking in before they have 'too much'.
"When it comes to responsible drinking, we know that it's not about what type of alcohol a consumer chooses that matters, it's how much alcohol they're consuming," said Diageo Australia's corporate relations & legal director, Kylie McPherson.
Intended to be a proactive step at the point of purchase, encouraging people to stop and think about how much they're drinking before any regrets, the initiative prudently furthers societal trends toward improved health and 'quality over quantity' alcohol consumption.
The Browning "Less is more" philosophy is fundamental to the changing social attitude toward intoxication, and intolerance to out-of-control behaviour.
A statement by the global drinks company says: "Diageo aims to equip consumers with the facts and tools to make informed choices about drinking as part of a balanced lifestyle."
The program will appear in participating venues from Christmas until the end of January.