Kent Grogan – owner of Broo Ltd – has put to market his Sorrento Brewhouse on the Mornington Peninsula, as recent expansion in the beer business consumes his focus.
The Sorrento Brewhouse is a newly-refurbished limestone building, occupying a large 1,485sqm site with prime street frontage, and rear access.
It offers a new public bar, commercial kitchen and dining spaces, large decking structures and extensive beer garden, with expanded redline area and a 1am licence.
Grogan has been operating the lease for the past two years, with a focus on being an outlet for Broo beer. This has seen around $800k spent on restoration of the building and new facilities. 
Increasingly busy with the brewery, the venue has been open only seasonally and not trading since the 2019 warmer weather ended. 
Broo has recently secured an extensive agreement with Queensland independent wholesaler East End Hotel Group, involving licensing the existing Broo Premium and creating a lower ABV version for the wholesaler, in recognition of the success of Great Northern.
Grogan says with the new contracts, and his hopes to build a new brewery on their land at Ballarat, he is "just too time-poor" to do anything at the Brewhouse.
Sorrento is just over an hour's drive south of Melbourne, via the new Peninsula Link freeway.
While it has been a summer haven for tourists since the 19th century, in recent years its proximity to the capital has seen it evolve into more of a year-round destination for tourists and Melbournians.
There are 15 years remaining on the lease, with below-market rental and four per cent annual increases and periodic reviews.  
The business is being marketed by CBRE Hotels' Mat George, with suggestion the undercooked operation could accommodate a number of additional concepts.
"The opportunity lends itself to switched-on operators, getting in and resetting the venue for a busy summer," suggests George. "Craft beer, wood-fired pizzas, food trucks, cafe, all-day dining, cocktail evenings … the list is endless."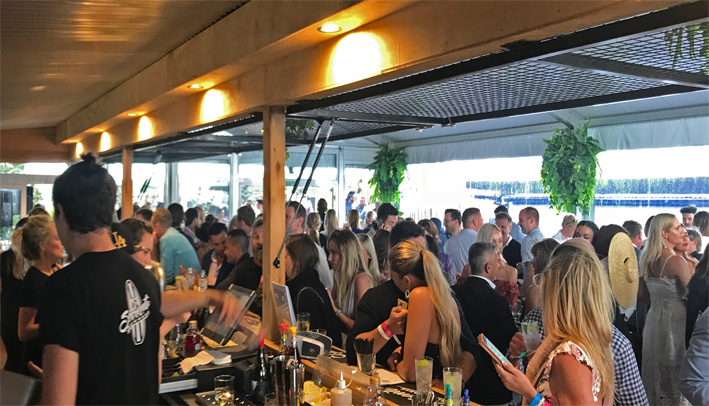 Despite taking $250k in less than two weeks over new year, before the new decks were installed, George says the venue has suffered by neglect.
"This needs to be owner-operator driven; someone with a more hands-on approach."
The immediate area has seen the recent sale of some cafes, offering operators less opportunity and shorter leases on smaller footprints, but finding sale prices approaching $1m.
The leasehold of the Sorrento Brewhouse is being sold via Deadline Private Sale, closing Wednesday 4 September.