Solotel has taken the reins at Newtown's landmark Marlborough Hotel, furthering its grip on the inner west and installing publican of the year Amanda Verratti to further Public House successes.
Following announcement of the acquisition in April, Bruce Solomon's group took the keys to 'The Marly' this month and have begun plans for applying their formula within the large-format pub, boasting nearly 1,000 m² across three levels.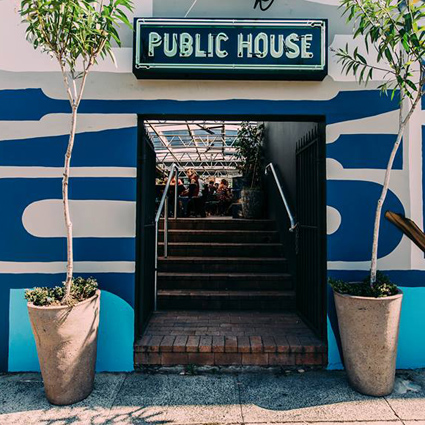 Solotel purchased the Newington Inn in late 2014, and have executed a successful re-brand as Public House Petersham (PHP), drawing a strong connection with the civic-minded locals, largely through the influences of new publican Amanda Verratti, who began there mid-2015.
Verratti was recently bestowed Time Out Sydney's Publican of the Year award – the first time a woman has won the title. She started with Solotel as a duty manager three years ago, moving from Melbourne, and was promoted to licensee with transfer to the PHP.
The Marly is Solotel's fourth venue in Sydney's edgy inner west, building upon its dominance with The Bank beside Newtown Station, the nearby Courthouse Hotel, 'The Courty', and local stalwart the Erskineville Hotel – 'The Erko'.
In a precinct populated by free-thinking demographics, including students, artists, LGBTQ, Solotel has come to realise the value of connecting with the locals, who will inevitably choose to either engage or avoid an establishment.
Verratti lauds the spirit of her new-found home in Sydney's inner west and its indomitable community spirit, and says they have taught her a lot on the role of hospitality.
"I learnt the importance of really being present, being there in the moment, meeting the customers, spending time with the staff learning their strengths, and really working with everyone to make it feel like a home away from home," she explained to PubTIC.
"I learnt you are only as good as the people you surround yourself with and that the people in the community are your biggest support."
Riversdale purchased The Marly in 2012, evolving it from a somewhat dingy student bar into a sophisticated multi-level offering with very broad appeal. The ground floor grew the much-admired Garden Bar, complementing a sports bar, band room, dance floor and dining area.
Upstairs saw development of the southern USA home-stylings of Miss Peaches, with Americana food and beverages in an authentically designed space and balcony overlooking Missendon Road. Below street level brought the enigmatic and inventive Tokyo Sing Song.
While Solotel is not yet ready to reveal ideas for The Marly, Verratti says she will be working to continue the all-welcome vibe that embodies the area.
"The inner west is diverse, beautiful and kind and warm and incredibly community-driven. They want to feel part of it because they are the heart.
"There is so much potential in The Marly, I'm so excited to work with it. Miss peaches has these amazing bartenders and cocktails and food and everyone is so passionate!
"I want it to be a community cornerstone and a place where everyone wants to be."