Patrick Ryan has lifted the lid on his chic CBD hotel renovation, with an amazing new roof-less bar atop the four-storey Pitt St pub.
The Republic Hotel has come to attract an upmarket clientele of suits and business class customers since the Ryan family re-licensed the 1865 building in 2002, but Patrick admits that after 12 years it was somewhat overdue for a facelift.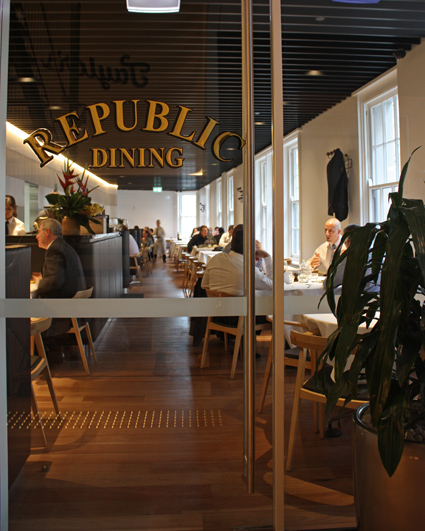 Situated on a prime city corner, the past decade-plus has seen the area transform from being somewhat scant, to one with some of the best hotels in the country.
The Republic's level-four dining area was a lofty but underutilised space, and the second level cocktail bar even more so. Taking inspiration from recent trends and international destinations like New York, Patrick has executed an extensive refurb – relocating Republic Dining to level two and literally ditching the roof on level four to create an intimate yet spacious open air bar. A mechanical retractable louvre system closes as required for weather protection.
With the help of Redbull and street artist Anthony Lister, the fire stairs have been converted to a visually amazing dedicated entrance to the rooftop that is both completely different and entirely separate to the rest of the pub.
"People that want to use that, they get the small bar feel in a pub," said Patrick, who told PubTIC the final key to the decision for the new offering came from the owner of one of the country's best rooftop bars.
"Martin Short said 'Before you ask anything – just do it. It'll revolutionise the pub'.
"I went to see him about an idea for a rooftop bar. I was probably 60 per cent there anyway, but I left that meeting, rang the builders and started the process."
Slightly inhibited within a building with a heritage façade, the roof was removed after some strange objections were overcome around pedestrians no longer seeing a ceiling through the windows. Visible now is a huge steel beam reinforcing the patchwork old structure, which works perfectly with modern grunge and industrial stylings and the natural contrast of two walls of vertical garden.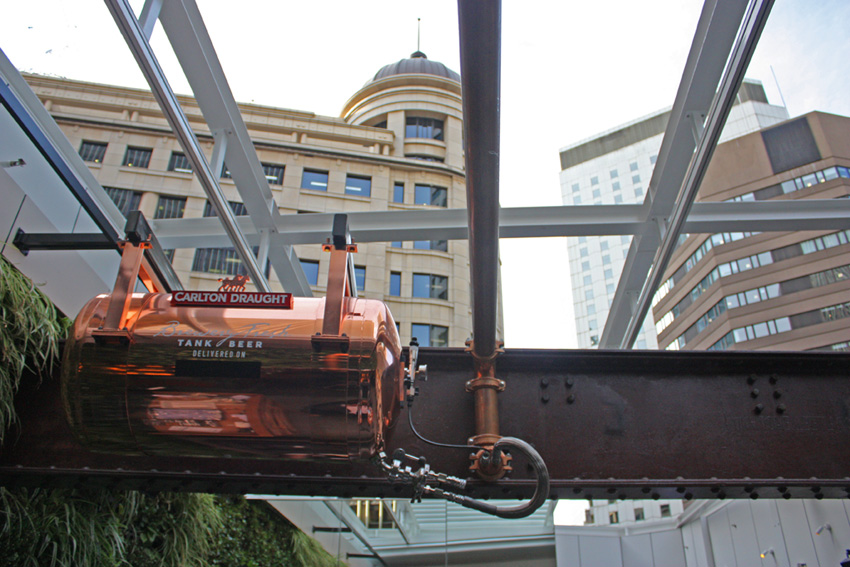 In light of Sydney's highly competitive venue scene and the ever-shortening renovation lifecycle, Ryan has seen world-class hotels grow around him and knew even a multi-million-dollar re-vamp was going to have to be on-point.
"The exciting thing for me here is that this can't necessarily be replicated by a lot of people," continued Ryan. "My restaurant's got similar food to what it used to have; it's a bit better – but it's heaving now, because it's new. Sydney's very fickle. You spend the money and they come.
"It's good to be on-trend with something that's not easy to replicate. But I'm very conscious that it can't just be shiny, you've got to give people a good experience and I've got to continue to chase the right staff."
Despite having the latest on-trend hotspot, the Republic has felt definite consequences from the much-questioned 'lockout' laws, and closes at 1:30 simply because "it's too hard" to continue, in the aftermath of regulations brought about by two aggressive men on the streets of Kings Cross.
"They can run New York, and Las Vegas and LA – surely they can run Sydney. Be brutal on violence, and a little bit relaxed on drunkenness. In twelve years, I don't have one violent incident on my register, yet I lost my late licence.
"One of those blokes was an aspiring cage fighter; watch what you wish for – he'll now be in a cage, fighting, for the rest of his life."