Rockpool ploughs on with its big expansion plans, opening two new Bavarian venues this week in New South Wales.
The Bavarian at Wetherill Park shopping centre opened its doors on Wednesday, offering seating for 300, with 100 of those in the outside area.
Today (Friday) The Bavarian debuts at Stockland's Shellharbour Shopping Centre, boasting seating for 575, including 200 in the bier garden.
The new venues respectively represent Rockpool Dining Group's (RPG) 24th and 25th Bavarian venues in Australia – 12th and 13th in NSW, joining Bondi Beach, Chatswood, Castle Hill, Entertainment Quarter, Rouse Hill, Penrith, Manly, Miranda, Wetherill Park and World Square, The Bavarian Beerhaus in Sydney's CBD and Munich Brauhaus in The Rocks.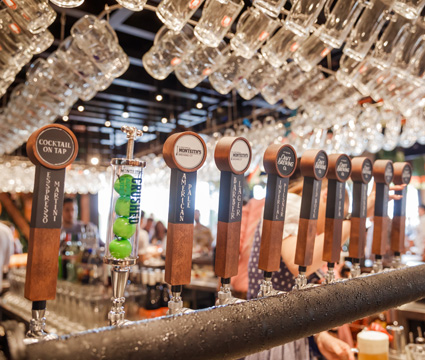 The Bavarians are casual, food-driven venues with designs that reflect Bavarian heritage, such as stone walls, alpine finishes and large, communal timber tables with bench seating. Each typically features custom elements, such as a vintage beer barrel wall and stein chandeliers suspended above the bar made from hundreds of 1-litre glass steins.
Plenty of greenery adorns the interiors, and large TVs bring some modernity, for the purposes of watching sport in Bavarian heaven.
Menus offer "traditional Bavarian refreshments", including crackling pork knuckle, plate-sized schnitzels, platters of classic meats and sausages, and big beers – imported Bavarian favourites Lowenbrau, Franziskaner, Stiegl and Hofbrau, a menu of local craft beers, and the in-house Urban Craft Brewing Co range.
Aimed to be "affordable, family-friendly" offerings, the chain continues daily deals, such as the schnitzel and beer weekday lunch ($15), daily "555 Happy Hour" offering $5 beer, wine and spirits, and Sundays when kids under 12 can eat free.
The openings this week were launched with the traditional give-away of 500 hotdogs and keg-tapping ceremonies, welcoming a host of Bavarian newbies into the group's amenity.
"We're thrilled to bring our first daily deal-packed destination to the residents of Wetherill Park and Shellharbour," stated RPG CEO Thomas Pash.