Back from the whirlwind that wreaked havoc across the Whitsundays, the magnificent Airlie Beach Hotel operation has been sold.
The O'Neill family lived, breathed and nurtured the Hotel right on Airlie Beach for more than 30 years, before putting it to market early last year.
The large-format Hotel on an 8,819sqm block offered a public bar, restaurant, conference facility, commercial car park, gaming room with 35 EGMs, and 80 accommodation rooms. It also holds title on several retail tenancies.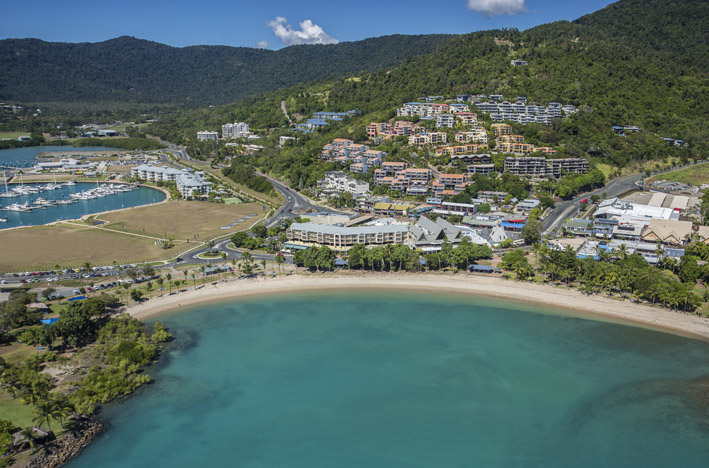 Days after listing, tropical cyclone Debbie tore through the region, causing extensive damage to mechanical and electrical systems throughout the Hotel and ancillary buildings.
Lend Lease engaged engineers to rectify the site, with restitution hampered by compliance issues in the aging buildings. Care was taken to produce like-for-like solutions that also met current standards, with the insurance project tallying around $10 million.
Resuming trade and back in the sale saddle, a buyer has been found for the leasehold interest, in an off-market campaign through CBRE Hotels' Wayne Bunz and Hayley Manvell, on behalf of the O'Neill family.
The agents report "pent up demand" by investors seeking opportunities in the area, and shortage of stock. Around 1,000 kilometres north of Brisbane and nearly several hundred south-east of Townsville, Airlie Beach is literally part of the Great Barrier Reef dream.
The buyers are the newly-formed ABH Operations P/L, taking the reins for a price not disclosed. PubTIC was unable to make contact in time for publication.
CBRE's original sales process recognised upside for an incoming operator in leasing more retail floorspace, and increasing the accommodation business, potentially adding rooms, redeveloping the carpark, or bringing in an international brand to the site.
"The new operators have a key opportunity to reposition the asset, and could immediately elevate returns through optimising the venue's operations and reducing overheads," suggests Bunz.
"We are very excited to see the direction in which the new owners plan to take the asset."