Jason Teague and partner have listed their pub in Sydney's north, weighing investment or divestment on the main street long lease.
Teague is a career publican who grew up in Sydney's inner-west, starting behind the bar at the Summer Hill Hotel, and doing a ten-year stretch as licensee living onsite at Mansions in Kings Cross, before time at Scruffy Murphy's and Thomas Group's Commercial in Parramatta.
Encountering the tight purse strings of GFC-stung banks, Teague and a business partner secured their first operation in the leasehold interest of RG McGee's, in Richmond, enjoying a fantastic outlook across from Richmond oval.
The original lease was for ten years, with four five-year options, on a recently renovated and healthy business, with a front bar, lounge bar and public/sports bar.
Teague has always hoped to move up to a freehold operation, and with 23 years remaining on the RG McGee's lease determined the timing was right to decide the next half-decade.
"We've been here for a while, and just think it's either now or never," he says. "We either stay for another six, do some reno's on the gaming, bit of a revamp on the bar areas, or put the pub on the market and see what we get.
"We know what has to be done; do we want to go ahead and spend the money, or let someone have a look at it?"
Richmond is central to Sydney's north-western growth bonanza, seeing major residential development around new or in-progress infrastructure.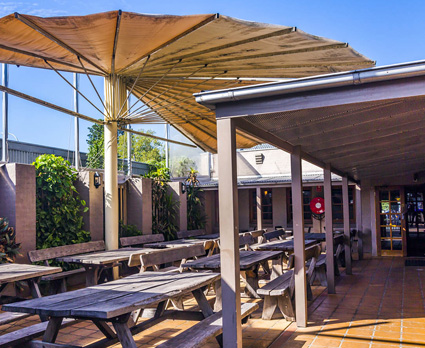 The pub reports $2.4 million annual revenue, across bar, food and gaming. The gaming operation counts 17 EGMs, 12 in a smoking solution, but with an average machine age of more than ten years, aged theming and no TITO. The site is next door to a Council carpark of more than 200 spaces, and proximate to Coles Richmond.
There are also five unused accommodation rooms upstairs, in need of some tweaks in access to facilitate both these and bring a separate entry to the gaming room.
Holding 23 years still on the lease, the partners have listed the hotel with JLL Hotels' Alex Richardson, who notes potential including its underutilised 3am licence.
"The business has substantial upside across a number of departments, and will benefit from continued supply issues that face the Sydney metropolitan hotel market, with gaming-orientated entry-level hotels in finite supply," says Richardson, JLL executive – investment sales.
RG McGee's is for sale via Expressions of Interest, closing Thursday 3 May.